How to reach Bandipur Tiger reserve forest for an adventure

In this article, you will know how to reach Bandipur forest to see Tiger, Elephants, Leopard, lots of Deer, Bear, Peacock and on. If you are interested to travel some adventurous places in India then Bandipur, Masinagudi and Mudumalai are the best places to visit in Karnataka, Tamilnadu and Kerala borders in India. Find the details about our stays at the Tiger Ranch Resort in Bandipur.


Since long I was planning for either solo travel or travel with friends to some different place in one or two days holiday or a weekend. I was unable to get weekend leave too due to busy work schedules and a different shift time for the past few months. I was unable to enjoy the weekends except on Sunday that too half of the day goes just relaxing, then usual little time pass with family and friends and again have to go to job for the next day. Hardly spent few hours for online task and writing articles etc. This was the routine for a few months.

Since this year summer was not enjoyed holiday or any excursion or vacation on time so had to prepare for a short holiday sooner, thus tried to plan to go for at least two to three days out of the Bangalore city to enjoy the travel pleasure and nature's adventure, just for a change against routine schedule. Yes, as planned, me, my colleagues and friends finally decided to go to Bandipur, Masinagudi and Mudumalai forest after checking out different other tourist locations as well. This time the reason to select these places were to enjoy the forest adventure and en route to visit Ooty as well in case we got time.


How to reach Bandipur

The Bandipur, Masinagudi and Mudumalai forest is situated in the border of Trio states Karnataka, Tamilnadu and Kerala with the widespread of 700+ kms surrounded. One can reach Bandipur, Karnataka by using the cab or van or even by two wheeler (some used to come with bikes in this dangerous area). The authority of the Bandipur forest is allowing the visitor inside the area (on road only) and its time from morning 6am to 6pm only. All three states' Government undertaking Transport / Buses also available for visiting these places. You may get local people who can assist you with cab to see the off-road places in the day time but they may charge you little high to bring inside the forest or deep forest. So, make sure before you go with them.

Since the area is connected to three states thus authority can't stop traveler as well except vehicle checking in the day time and vehicle stop during the evening and night time. Even if you stay in the resort and have an emergency to go outside by cab in the midnight then nobody would cooperate you and authority might fine you with heavy amount as a penalty if they see you in the evening or night time roaming or traveling around for any reason.




The visitors can see the Tiger suddenly anywhere since it is a Tiger Reserve forest, so precautions must be taken care for safe journey. The visitor also can see the Elephants group nearby road without harming others unless humans try to harm it. The visitor also able to see Leopard but it is hardly visible and precaution must be taken care of it. Yes, Bandipur forest department arranges 'Safari' visit in the day time so you can enjoy it in Bandipur entrance itself. The visitors can see lots of Deer nearby road itself and can take photo with precaution again. The Bison group also can be seen on the way itself. The one way road is an excellent one and you might feel like it is of an international standard plus the same rich lush greenery seen over here.

Some dangerous animals like Bear, Tiger, Leopard are inside the deep forest and pass by the road once in a while, so travelers must be careful on this. The visitor also can see some Peacocks nearby the road itself and take the photos or selfie too. The travelers also can see other birds and animals at anytime like we saw the Indian Civet with black and white tail in the night time.

One incident: we were in the cab at Mudumalai forest and seeing the Elephant herd and its baby, we stopped to take a snap though they were at around fifty meters max distance. We were taking snaps and the baby Elephant hidden by its group and signal were given at one starting point. We didn't understand it, however, one more car came behind our cab and stopped in front of our cab which hard for us to move forward in case if any emergency arrived to go as the road is like one way and hardly two cabs can cross or move together.

A stupid traveler from the other car got down and tried to approach the Elephant herd to take a snap and within few seconds one of the Elephants came toward us to attack. It was our luck that one of my friends is expert in driving. He right away moved forward by chasing the car with rough drive as cab was on and didn't off the engine. This is one of the thrilling adventure experiences for us and of course for the other car as well who nearly escape from the Elephant attack in Mudumalai. The second move, we got information from the opposite cab people that a Tiger was crossing the road within few meters distance from us. We moved accordingly and we missed to see the Tiger that was crossing the road to go to a channel to consume water despite the fact that we were waiting for it around half an hour.


Tiger Ranch Resort Bandipur stay

There are around ten resorts available in Bandipur and one of the unsecured resorts is Tiger Ranch Resort - why? Read the points as mentioned below;

It looks like most haunted place in Bandipur
Insecure resort in Bandipur
Fenceless jungle resort in Bandipur
No cleanness resort in Bandipur
Monkey's thrilling of stealing snacks in Bandipur
Indian Civet can be seen in Bandipur
Bachelors' adventure stays in Bandipur
No signal / network resort in Bandipur
No or less electric power resort in Bandipur
Hurdle road resort in Bandipur
Tasty vegetarian food in Bandipur
Overall, the adventurous resort in Bandipur, Masinagudi, Mudumalai, Karnataka, India.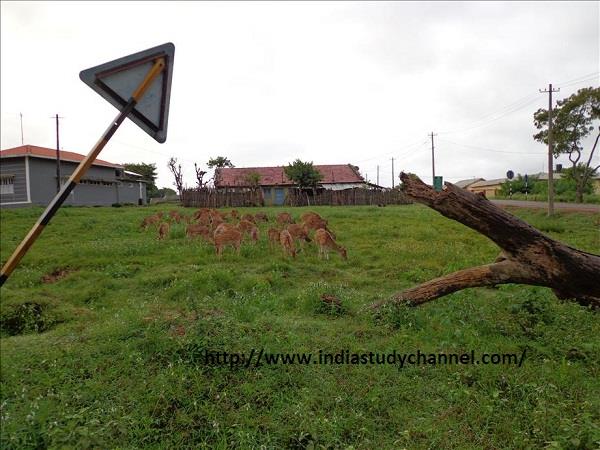 Once you stay in this resort despite some discomfort, once inside the forest then you won't stay in any other resort in Bandipur, Masinagudi, Mudumalai, Karnataka just because of the fact that you won't get such an adventure and thrilling one. This is one of the reasons one of my experienced friend / colleague brought us to that resort. Yes, we felt the same for sure. We won't stay in a comfortable resort in Bandipur next time but this one despite room rate is above Rs 1500 per head for 24 hours and few points stated as above. You won't get them in any other resorts.

Yes, one of the old customers of the resorts who used to visit over there since fifteen years shared with us some of the adventurous experiences within that resort. Their family used to come to that resort from Bangalore every two months at least. Once an Elephant came behind and stood with them for a while when the fire camp was going on. Once a leopard was sitting back with the distance of thirty meters from their fire camp to attack or seeing any movement of humans. Once a Tiger entered in the resort and roamed around for a while etc. The security and staff help visitors in such situations for safety measure and they know the tactics to handle it. They also used to warn like after fire camp in the night – one shall not move anywhere except staying in one's room. You have to separately pay for fire camp as well.


Adventure trip in Bandipur forest

Yes, you can enjoy a thrilling and adventurous trip in Bandipur, Masinagudi, Mudumalai if you reach over there. If you are going with your family members and you wish to stay in a good and safest resort than Tiger Ranch Resort Bandipur. Even though there were no incidents since it was established fifteen years back, except few dangerous animals like Tiger, Leopard and Elephant visited this resort (as briefly state above) and no incident or injury etc.

If you are still looking for a real story of the Adventure trip in deep forest then continue to read this article and add your valuable comments below.


Tiger Ranch Resort Bandipur review

The rooms in the Tiger Ranch Resort in Bandipur are really like old house of a village (I have attached photo over here for reference), the wooden bed is OK but the Bedsheet and Blanket is doubtful if those were washed and cleaned. The room and its surrounding looks always has dark places unless you switch on the light or torch or battery. There won't be electrical power sometime or almost half of the day, so, you should prepare for it. You will feel like it is a haunted area once in a while and feel insecure often despite adventure feeling every second till you check out and get inside the car.

The same amount can be spent for other beautiful secure resorts nearby if you are with family members but for these two friends, choices are to stay in this resort only for adventure purpose and it was my first time as well to reach that resort. I enjoyed the whole experience as stated. Fresh air, fresh surroundings, silent atmosphere, peace and quiet, chilly atmosphere and thrilling every now and then!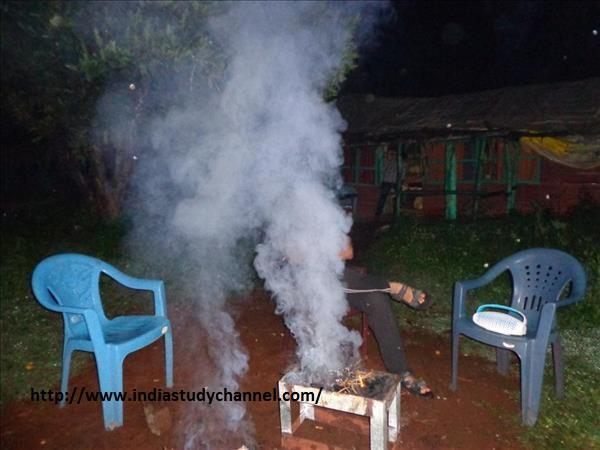 I have to state one more thing is all the staff at Tiger Ranch Resort in Bandipur are helpful. You may enquire with them all about some adventurous incidents of the past 15 years and they would help you to let you know in detail.


How we reach Bandipur forest

We got an SUV car for this trip and started to travel in the mid-night time from Bangalore to reach Bandipur in the early morning. Bangalore to Bandipur distance is around 280kms. We reached Bandipur as planned and we had already booked that resort a week advance via online. You have to keep food, snacks, water and other basic needs including medicine in your bag, in case needed. I would like to remind you that there won't be any network signal for mobile communication (except rare signal to use it) and you won't have any landline phone too to call reception or outgoing calls. If you would like to enjoy the adventure in Bandipur then this is one of the resorts over there of course.