How to bid for SBI e-Auction of properties in India on 7th September 2016

Want to buy a home, shop, office or land property in India? This article provides guidelines on how to participate in the forthcoming SBI mega e-auction of residential and commercial properties in India scheduled for 7th September 2016.


There is a super golden opportunity for those keen on acquiring property in India. It is not just any property, but valuable ones with these properties being available for auction organized by none other than India's most trusted bank, SBI (State Bank of India). All you need to do is take part in the online bidding process of the SBI mega e-auction schedule for 7th September 2016.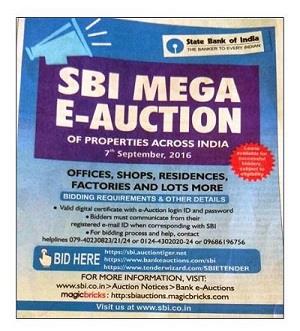 [Image source: photo taken by author from print advt. in Hindustan Times dt. 25/08/2016, page 3]

You can bid online on this specified date for all the varied types of property put on the block, including not just commercial places for setting up shops and offices, but also spacious residential homes, factories and lots more. The properties are located in most major towns and cities in India. Loans will also be available for successful bidders, subject to eligibility. Of course, do take care to check out the property details thoroughly, find out if you need to pay for arrears if any of the previous owner and know the amount of earnest money to be paid for each property that you bid for.

You can check out my previous article o know of the benefits of bidding in an SBI e-auction.


Bidding eligibility requirements
Net connectivity: Minimum 256kbps internet connection.


Browser: Microsoft Internet Explorer version 8, 9,10 & 11; Mozilla Firefox; Google Chrome - Below 44 versions


OS: Windows XP professional, Windows 7 professional, Windows 8 professional, Windows 10 professional


You must have a valid digital certificate with e-auction login ID and password.


You must communicate from your registered email ID when corresponding with SBI.
How to participate in the bid process
Those interested in participating in the SBI e-auction process can do so only at the official website.

Bid at https://sbi.auctiontiger.net/EPROC/ on 7th September 2016
Or
https://www.bankeauctions.com/SBI
OR
http://www.tenderwizard.com/SBIETENDER

Other important Websites for details of the e-auction and bidding process:





Bidding process details and the helpline contact numbers are: 079-40230823/21/24 or 0124-4302020-24 or 09686196756


E-auction app for Android smart phones
You can also download and use the AuctionTiger mobile app on your smartphone. The app gives the details of the auction notice and well as the facility to download the requisite document & submit your bid in the auctions listed at AuctionTiger.net. Afterwards, you can even find out the results of the auction. All you need to do is install the app and register.

The app is available at the Google Play store

[Note: Bidders are advised to go through all the instructions for the registration and bidding process and not rely solely on the information provided here in this article. You can check out the FAQs at the various sites as listed above too for answers to commonly asked queries.]