How to apply online for a job in PM Narendra Modi's Government office

Are you looking for job vacancies for freshers and experienced people in the office of the Central Government of India? This article provides complete information of the recruitment announcement made by the Government of India to fill up various positions. Know the list of jobs and the eligibility requirements for each.


About two years ago, Prime Minister Shri Narendra Modi had launched a unique platform for the citizens of India to share their expertise towards developing better government policies. Through this platform, namely the portal MyGov, the Government of India's online Citizen Engagement Platform, now one can apply for a job too by uploading one's resume at the online portal. Your resume will then become a part of the data bank of resumes (at the time of writing this article, there were 1,999 resumes which were submitted and not yet reviewed) which goverment officials will check out from time to time to find an expert in a particular field as and when the need arises to do. The selected candidate can then take up a contractual position in a specific department or organization or institution based on his/her expertise in that field.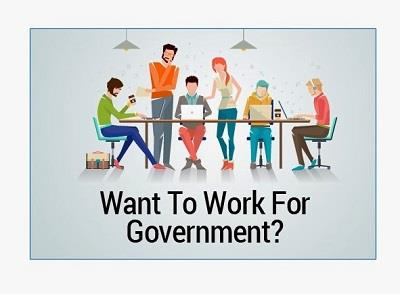 [Image source: https://www.mygov.in/]

Of course, there is no 100% guarantee of employment. Nor is it the case that you will necessarily be employed in the main central goverment office at New Delhi - it could be in some ancillary office or organization. You will need to clarify the job location if your resume is selected and you are called for a one-on-one interactive discussion/interview with the government selection committee officials.



For all the below-listed positions, your job level in terms of work, pay scale, perks and seniority would be on the basis of your academic qualification and relevant work experience.


List of vacancies and eligibility requirements
Editorial writers:
Qualification: Masters in Mass Communication/Masters in Journalism/Masters in Economics, Social Sciences.
Experience: You should have some experience in writing editorial and opinion pieces at reputed national & international print, electronic and digital media platforms.


Researchers:
Qualification: Bachelors in Economics, Social Sciences, Computer Science, Engineering / Masters in Economics, Social Sciences, Computer Science, Engineering/ Masters in Mass communication or Journalism/MBA, Ph.D. in Economics, Social Sciences.
Experience: You should have worked on a reputed research team or in a university or a government organization or a bank. Freshers who are graduates and post graduates in the fields afore-mentioned are also welcome to apply.


Software Developers:
Qualification: Bachelors or Masters in Engineering/Ph.D. in Computer Science.
Experience: You should have some experience in designing complex algorithms for developing analytics and dashboard functionalities, in designing and developing social media websites or similar modules for social media companies.


Data Scientists:
Qualification: Bachelors or Masters in Economics/Masters in Statistics or Mathematical Sciences/Ph.D. or D.Sc. in Mathematics.
Experience: You should have some experience in Data Warehousing, quantitative data analytics, designing algorithms for analyzing structured & unstructured data, working on data analytics in Banks, IT companies, Telecom firms, Research organizations, etc.


Graphic Designers:
Qualification: Degree in Graphic Designing Animation/Masters in Animation and VFX and CGI.
Experience: You must be proficient in graphic design software for making banners, infographics,
posters, etc with some experience in 2D and 3D animation, VFX, CGI and the like and/or experience in designing graphics for the games industry/film production sector.


Video Editors:
Qualification: Degree in Video Editing and Animation.
Experience: You should have experience as a video editor for advertising films, documentaries, promotional campaigns, cinema and the like.


Digital Content Script Writers:
Qualification: Bachelors or Masters in Mass Communication or Journalism or Economics or Social Sciences.
Experience: You should have some experience in developing digital content for online & mobile mediums with demonstrated experience in ideating & writing scripts for video films, graphical and banner campaigns. Preferably, you should have got credited writing scripts or dialogues for
prominent and viral campaigns


Advertising Professionals:
Qualification: Bachelors or Masters in Advertising, Social Sciences, Engineering.
Experience: You should have planned, developed and executed some advertising campaigns for non-commercial products at the national and international levels, with work experience at the senior level in a reputed national & international advertising house.





Senior Management:
Qualification: You should be a senior level working professional or a retired professional from a University or in the police/civil service or in the Armed Forces or in a hospital with some experience in leading large teams of professionals.


Academic Experts:
Qualification: Ph.D. in the relevant discipline
Experience: You should have some work experience as a mid to senior level academician in a reputed college, university, research organization or an international agency. A few published papers in a reputed international journal would be ideal. Retired Professors from reputed international Universities are welcome to apply too.


Social Media Experts:
Qualification: No specific acadmic qualification has been listed. All that is required is that you have good expertise in devising and running successful social media profiles on the Net, such as Facebook, Twitter, YouTube, Instagram, Linkedin, Quora, Whatsapp, etc. It would be good also to have your own blog or have an online crowd sourced opinion portal.


App Developers:
Qualification: You should be an engineering graduate.
Experience: You should have experience in developing successful mobile apps, with expertise in developing workflow & algorithm for smartphone apps.
How to apply


Upload your latest detailed resume only in PDF format. Mention clearly which post you are keen on taking up on the first page of your resume. To submit your resume you have to use the Hashtag of the post in the comment box given at the bottom of the page & then upload your resume in PDF format. The hashtag for each post is provided alongside the link to the positions that are available.

Your resume will be scrutinised in due course of time by MyGov. If you are shortlisted for a position, then you will be contacted for a further discussion or a personal interview. At the time of the discussion or interview, you will know your salary and other details.

Best of luck to getting your dream central government job!