Complete list of Reliance Jio 4G LTE Network data plans and compatible smartphones

Want to know what are the Reliance Jio 4G data plans? Want a Reliance Jio SIM card? This article provides complete information on the prepaid and postpaid Reliance Jio 4G LTE Network data plans. You will also know how to get the preview offer with the Reliance Jio SIM card and the list of mobile devices compatible with the service.


Every smartphone user, unless living under a rock, by now will be knowing about the launch of Reliance Industries's new 4G telecom network at their 42nd annual general meeting. As part of its 4G LTE Network services, the company is offering unbelievably low data plans along with free voice calls. The network will be operated by its new company RJio. Is that really super news for the more than 900 million & still growing mobile subscriber base in the country? This article will provide a complete list of all the data plans being offered by Reliance Jio, how to get the SIM card to activate it and other aspects of the service.


Overview
Who can avail of the initial offer: Open for all with 4G-VoLTE smartphones.


When the Jio services will be enabled: from 5th September 2016.


Till when the services will be available: free domestic voice calls and no roaming charge till 31st December 2016.


Special Apps offer: The apps offered with data plans will be free till December 2017.


What's the special offer for students: Those showing a valid student ID card will get 25% more additional 4G WiFi data benefits.


Increase in rates later: There will be no increase in rates on Diwali or the New Year.
What's the catch?
When something is offered free or at rock-bottom prices, the smart subscribers will have their antennae on the alert! They will sensibly look for the catch, invariably hidden in the very minuscule fine print that is placed at the bottom. So, looking at the fine print, here's what you need to know:




Which smartphones are compatible for the RJio service?
Unless you have an 4G-VoLTE compatible handset, there is no need to go rushing to subscribe for any of the Reliance Jio services. Having a smartphone with 2G or 3G is of no use. There are specific models of smartphone brands too which will not be compatible for the service. The list is as follows (alphabetical order by brand name):

Alcatel mobile phones: OneTouch X1, Pixi 4 -5, POP Star, POP3, POP4


ASUS mobile phones: ZenFone 2 Laser (ZE550KL), Zenfone 2 (ZE551ML), Zenfone Max (ZC550KL), Zenfone 2 Laser 5.0 (ZE500KL), Zenfone 2 (ZE550ML), Zenfone Selfie( ZD551KL), Zenfone 2 Laser (ZE601KL), Zenfone Zoom(ZX551ML), Zenfone Go 5.0 LTE (T500), Zenfone 3 ZE552KL, Zenfone 3 Laser( ZC551KL), Zenfone 3( ZE520KL), Zenfone 3( ZS570KL), Zenfone 3( ZU680KL)


Celkon mobile phones: 4GTAB-7, 4GTAB-8, ACE, POP, Q4G, Q4GPlus


Gionee mobile phones: E8, F103 Pro, F103(1GB), F103(2GB), F103(3GB), M4, M5, M5 Lite, M5 Lite CDMA, M5 Plus, P5L, S Plus, S6, S6s, S7, V6L.


HTC mobile phones: Desire 626 dual Sim, Desire 628, Desire 630, Desire 728 Dual SIM, Desire 820, Desire 820Q, Desire 820S Dual Sim, Desire 825, Desire 826, Desire 826 DS, Desire 828 DS, Desire 830, Desire Eye, HTC 10, HTC 10 Life style, One A9, One E9 S dual sim, One E9+ Dual Sim, One M8, One M8 Eye, One M9 Plus, One M9e, One ME Dual Sim, One X9.


Huawei mobile phones: holly2 Plus, Honor 4C, honor 4X, honor 5C, honor 5X, Honor 6, honor Bee4G, honor6 Plus, honor7, Nexus 6P, P9.


InFocus mobile phones: Bingo 50+, M370i, M425, M430, M460, M535, M535+, M680, M808i, M812i.


Intex mobile phones: Aqua 4G, Aqua 4G Star, Aqua 4G Strong, Aqua 4G+, Aqua Ace, Aqua Ace 2, Aqua Ace Mini, Aqua Craze, Aqua Eco 4G, Aqua GenX, Aqua Music, Aqua Power 4G, Aqua Raze, Aqua S7, Aqua Secure, Aqua Shine 4G, Aqua Strong 5.1, Aqua Super, Aqua Trend, Aqua Turbo 4G, Aqua View, Aqua Wing, Cloud 4G Smart, Cloud 4G Star, Cloud Crystal 2.5D, Cloud Fame 4G, Cloud Flash, Cloud Glory 4G, Cloud Jewel, Cloud String HD, Cloud String V2.0, Cloud Swift.


Karbonn mobile phones: Aura 1, Aura Power, Quattro L45 IPS, Quattro L50 HD, Quattro L51 HD, Quattro L52 VR, Quattro L55 HD.


Lava mobile phones: A71, A72, A88, A89, Ivory s 4g, Lava V5, Pixel V2, V2s, X10, X11, X12, X17, X28, X38, X46, X50, X81.


Lenovo mobile phones: A6600, A2010, A2020, A6000, A6000 shot, A6600, A7000, A7700, K3 Note, Vibe K4 Note, Vibe K5, Vibe K5 Note, Vibe K5 plus, Vibe P1, Vibe P1m, Vibe S1, Vibe Shot, Vibe X3, ZUK Z1.


LG mobile phones: K332 (K7 LTE), K520DY (Stylus 2), K520DY, H860 (LG G5), K500I (X Screen), K535D (Stylus 2 Plus), LGH630D (G4 Stylus 4G) & LGH 442 (LGC70 Spirit LTE).


Micromax mobile phones: Bolt Selfie, Canvas 5, Canvas 5 Lite, Canvas 5 Lite Special Edition, Canvas 6, Canvas 6 Pro, Canvas Amaze 4G, Canvas Blaze 4G, Canvas Blaze 4G Plus, Canvas Evok, Canvas Fire 4G, Canvas Fire 4G plus, Canvas Fire 6, Canvas Juice 4G, Canvas Knight 2, Canvas Mega 2, Canvas Mega 4G, Canvas Nitro 4G, Canvas Pace 4G, Canvas Play 4G, Canvas Pulse 4G, Canvas Sliver 5, Canvas Tab, Canvas Unite 4, Canvas Xpress 4G, Unite 4 Plus, Unite 4 Pro.


Motorola mobile phones: Moto E (2nd Gen), Moto G (2nd Gen), Moto G (3rd Gen), Moto G3 Turbo Edition, Moto G4, Moto G4 Play, Moto G4 Plus, Moto X (2nd Gen), Moto X Force, Moto X Play, Moto X Style.


Panasonic mobile phones: ELUGA L, ELUGA Switch, ELUGA Icon, T45, ELUGA I2 ( 1GB ), ELUGA L2, ELUGA Mark, ELUGA Turbo, ELUGA Arc, ELUGA I2 2GB, ELUGA I2 3GB, ELUGA I3, ELUGA Icon 2, ELUGA A2, ELUGA Note, P55 Novo 4G, ELUGA Arc 2, P77.


Samsung mobile phones: Grand Prime 4G, Galaxy J1, Galaxy J2, Galaxy J7, Galaxy J5, Galaxy S5 Plus, Galaxy A5, Galaxy A7, Galaxy Core Prime 4G, Galaxy S6, Galaxy J3 (2016), ON7, Galaxy A8, Galaxy S6 Edge, ON5, Galaxy Note 5, Galaxy Note 4, Galaxy Alpha, Galaxy S6 Edge Plus, Galaxy Note 4 Edge, Galaxy Note 5 Duos, Galaxy S5 Neo, S7, Galaxy A5 (2016), Galaxy A7 (2016), S7 Edge, A8 VE, J5 (2016), J7 (2016), ON5 Pro, ON7 Pro, Galaxy J2 (2016), J Max, Galaxy A9, Galaxy A9 Pro, Galaxy C5, Galaxy C7, Galaxy J2 Pro, Galaxy Note 7.


Sansui mobile phones: S50 FD45S.


Sony mobile phones: Xperia X A, Xperia X A Ultra, Xperia X(F5122), Xperia Z5 Dual(E6883), Xperia Z5 Premium Dual.


TCL mobile phones: FIT 5.5, Pride T500L, TCL 560, TCL 562.


Videocon mobile phones: Graphite1 V45ED, Krypton 3 V50JG, Q1, V50FA3, V50FG6.


Vivo mobile phones: vivo V3, vivo V3Max, vivo Y21L, vivo Y51L.


Xolo mobile phones: Black-1X, era 4G, era 4K, era X.


YU mobile phones: YU Yureka, YU Yutopia, YU Note, YU Yuphoria, Yunicorn, Yunique, Yuphoria, Yureka Plus, Yureka S.

This list is sourced from: https://www.jio.com/en_US/faq/jio-preview-offer/partner-jio-preview-offer/which-are-the-devices-that-are-part-of-the-partner.html


Is it really free?
Yes, there will be no charges whatsoever towards 4G voice calls or for the data used to make those calls.


What are the night time hours for unlimited data?
The unlimited usage is only for the hours between 2 a.m. up to 5a.m.


Where is the Wi-Fi data usage applicable?
You can avail of the Wi-Fi data benefits in any of the public Wi-Fi hotspots of RJIL.


When exactly can subscribers avail the data plans?
From 1st January 2017 subscribers can avail of the data plans. Refer to the data plans tables at the end of this article.


How does the data allocation work?
The data you use for Jio applications, video calls & any other content available on the Net will be uniformly debited against your plan data allocation.


What happens to the free benefits that you don't use?
You will forfeit any unutilized free benefits at the end of validity.


Are prepaid packs available for the first recharge also?
No, not all of the packs can be availed of. Those with denominations of Rs.19, Rs.129 and Rs.299 cannot be availed as a First recharge by new subscribers.


What are the taxes on the prepaid and postpaid tariff?
The Prepaid tariffs include all applicable taxes. However, on Postpaid tariffs applicable taxes will be charged. The postpaid subscriber who opts for the auto-debit option using credit/debit cards/online transfer to pay the monthly mobile phone bill & those opting for e-bill will be given an additional 15% discount on the bill value.


What about switching back to my earlier service provider?
This is something you seriously need to think about. Let's say you do avail of the RJio initial free offer. Once the free benefits end, you discover that the plans are not as good as they seem to be, that perhaps your earlier service provider offers better plans. Can you switch back? Yes, of course you can, thanks to the provision of mobile number portability

Also, you may discover some hidden costs! Just check out this interesting discussion: What are the disadvantages and hidden costs of Reliance Jio 4G LTE Network data plans?


Where to get the RJio SIM card
You can avail of the free voice calls and low data rates through the special preview offer by getting your hands on a Jio SIM card at your nearest Reliance Digital outlet, including Digital Xpress Mini stores.

What you need:

A 4G-LTE enabled handset


ID proof and Local address proof – note that this is mandatory for SIM card activation as per the norms of the Telecom Regulatory Authority of India (TRAI). So you need to have a proper Aadhaar card and not just the e-Aadhaar for activation of the SIM card.


One passport size photograph.


Please ensure you carry your Jio Preview Offer Code along with the handset.
How to get the offer code
Firs you need to download the MyJio App from & Open MyJio App from Google play store or from the Apple itunes Store


Once you have downloaded the app, you will see the banner 'Get Jio SIM'. Tap on this and then on the words 'Agree & Get Jio Offer'.


Select your location from the drop down list provided.


Go through the entire list of subsequent steps and click on the 'Next' button.


You will now see the offer code on your phone's screen.


Note down this Offer Code and give it at the store.

Find your nearest store: List of stores to get RJio SIM card

Note that you should be prepared to wait in a long queue as hundreds of customers are heading to avail of the launch offer! Don't forget too that a store employee will take at least 15-20 minutes to activate one SIM card.




RJio Prepaid plans at a glance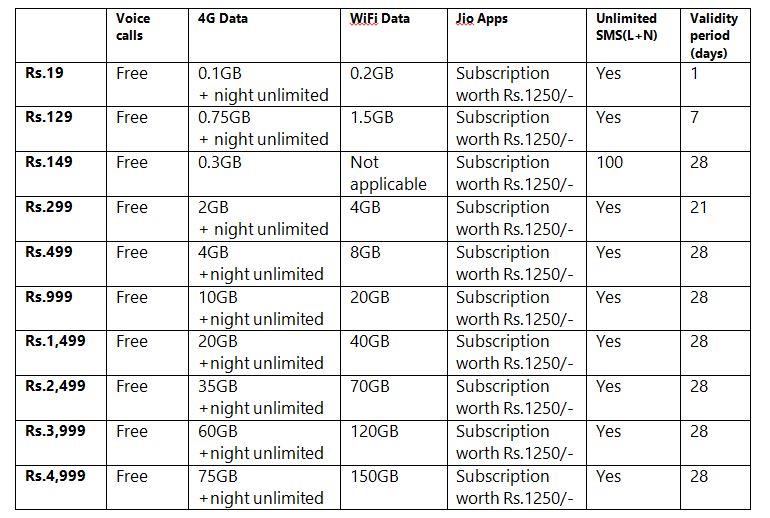 [Table created by author based on details provided at official website https://www.jio.com/]


RJio Postpaid plans at a glance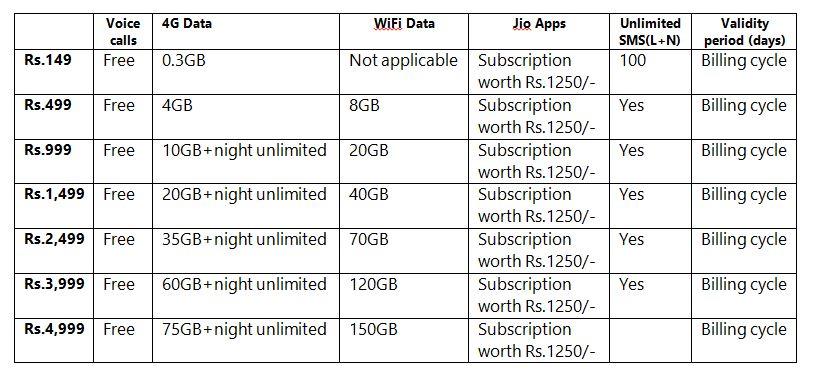 [Table created by author based on details provided at official website https://www.jio.com/]

For any help give a free call from your existing mobile number to 1800-200-200-2
You can also get information through these FAQs: https://www.jio.com/en_US/my-jio/selfhelp.html