How to book online tickets for 2016 Falguni Pathak Navratri event Mumbai

Want to know where to book online tickets for the 2016 Falguni Pathak Dandiya Raas & Garba event in Mumbai? This article provides details of the schedule of the Navratri event in Mumbai where Falguni Pathak will perform live. You will also get information on the event dates, times, venue and where to get the tickets online for the event.


Overview
Dandiya Queen Falguni Pathak is the most popular artiste for the Navratri festival. In fact, she has carved her own niche and got plenty of fans from around the globe. She has grown from strength to strength right from her debut album Meri chunar udd udd jaye and has got albums of bhajans and Sufi songs too on her list of popular notes. Tickets for her live performances get sold out weeks ahead of the actual events. This is especially so for the annual Navratri Festival in Mumbai where Falguni Pathak performs live throughout the night, with brief breaks.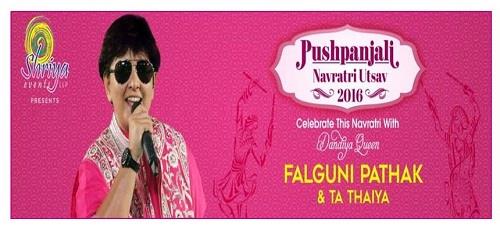 [Image source: in.bookmyshow.com]

This year, Shriya Events is organizing the Pushpanjali Navratri Utsav 2016 with Dandiya Queen Falguni Pathak and Ta Thaiya. What is exciting is that you can book your season passes and win free vouchers worth Rs.51,000/-!




Venue
Pushpanjali Gardens,
Chandavarkar Road,
near Don Bosco School,
off New Link Road,
Borivali West,
Mumbai - 400092,
Maharashtra,
India


Schedule and Ticket Prices
Like last year, you can purchase either a full season pass which will give you entry for all the days or you can purchase a pass for just the day on which you wish to attend the event. The prices of the tickets for each day and for the season pass, along with the timings, are listed in the below table of the complete schedule: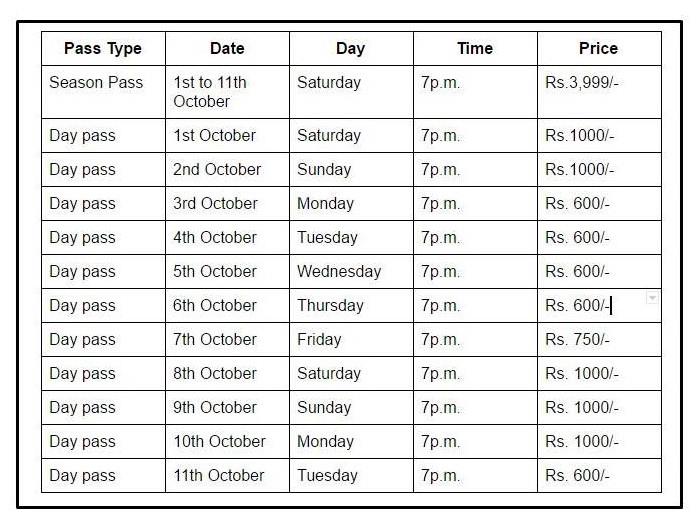 [Image source: Table created by author based on information provided at the official booking website]


How to book tickets online You can directly book the tickets for the Navratri event online at the official booking website: in.bookmyshow.com

Note: You may likely have to pay a processing fee per ticket and hence check the total amount before making the actual payment. Also, there is no refund for any ticket and you cannot exchange, sell or transfer your ticket either.

At the event venue

The entry to the venue will be at 6p.m. It is advisable to go to the venue early, at least twenty minutes before the event begins, so that you can pick up your tickets.


Only one person can gain entry on one pass and once you enter, there will be no re-entry allowed.


Vouchers that are offered online can also be redeemed at the venue's box office itself.


The event may begin at a time later than mentioned.


You will be not get a refund on your pass in case the event is cancelled or delayed or the dates are changed due to some natural calamities.


In case you get an injury while attending the event, the management will not be held liable for it. Of course, first aid and basic medical facilities will be provided, but the organizers will not take any responsibility for any problems arising from it.


Parking space is there, but you can park your vehicle at your own risk.


Rules for visitors

The minimum age limit to buy a ticket is 7 years. Children of 6 years and below are allowed free entry, but only if they are accompanied by an adult.


Ensure that you retain your ticket at the time of, and on gaining entry into, the venue.


You will not be allowed to take inside the venue: handbags, cans, tins, bottles, cameras.


You may be ejected from the veneu in case you have breached any rules & regulations, terms and conditions as a visitor and no refund will be given.





In case of any problems with the online ticket booking process, use the 'Contact Us' page of the website to get assistance.

So what are you waiting for? Dress up in colourful Navratri garments, deck up with dazzling jewellery and enjoy the music beats with Falguni Pathak!