How to sell products online at Amazon India

Want to know the fees for cataloguing and selling products at Amazon India? Need tips to sell store products online successfully? This article provides information about how you can register online to sell your products at Amazon India. Details of the products which you can sell, requirements, fees and registration process are all provided for your ready reference. A first hand insight from a seller with tips is also provided.


Amazon India is a fast-growing e-commerce platform for buyers who love the comfort and ease of shopping for products online from home. It is not all about buying, though. Even those who wish to sell their products have a great platform to sell their products on a global scale. What's more, there is no compulsion to have the account on a permanent basis. You are free to cancel anytime.


List of products you can sell on Amazon India
You can sell products in the following categories:
Apparel, Automotive, Baby products, Batteries, Beauty, Books, Consumables, Consumer electronics (this includes consoles of video games & cameras), Digital accessories (this includes mobile phone, computer and electronics accessories), Groceries, Home, Jewellery, Kitchen, Luggage, Mobile phones, Movies, Music, Musical Instruments, Office & stationary, Personal care appliances, Personal computers, Pet supplies, Software, Shoes and handbags, Tablets, Toys, Video games (both consoles & games) and Watches.



Important Notes:

Certain categories are restricted, for which you must obtain prior approval before selling the products from those categories.


As per the laws in India, VAT (Value Added Tax) and CST are mandatory to sell anything online. Hence, at the time of registration itself you will have to submit the VAT and CST number. However, if you are selling products solely from categories which are VAT-exempted, then this may not be required.


You can purchase Amazon branded packaging material as per your packaging requirements.
How to register and set up your Amazon store
Prior to registration, make sure you have the following details ready for providing when filling in the online form:

Your company details


Your contact details, namely your email and phone number.


Basic information about your business.


VAT/CST/TIN details (must be given after registration) if you sell in taxable products.


Your bank account details for receiving payments from Amazon.

Register at: the official website of Amazon India.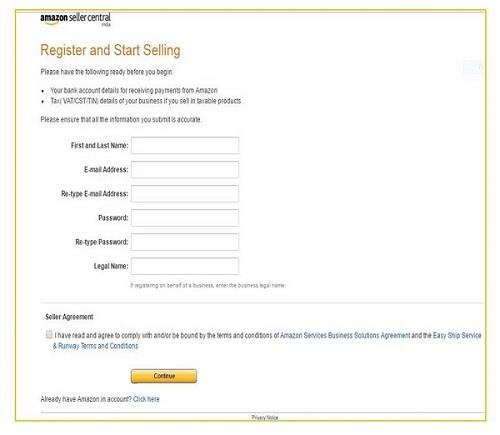 [Image source: amazon.in]

Once you complete your registration for selling on Amazon, you will be guided via a tutorial on the steps needed to list your products.

You will need to have ISBN/ bar codes to list on Amazon. If you are a manufacturer or do not have these, you can request for an exception by contacting 'seller support' through your Seller Central account. Some product categories might require additional information to list your products.
Now you can set up your store on Amazon India by listing your products on it with the aid of easy-to-use listing tools. You can create a catalogue of the products yourself or take the guidance of Amazon India's network of professional service providers.

Know about great rewards for sellers: How to apply online for Seller Rewards for selling products on Amazon India




How to deliver the products
Once your store becomes live online, prospective buyers will view your products. On placing an order, you will be able to view and manage the order via the 'Order Management Dashboard'.

The responsibility of delivering your products rests with Amazon India. Your sellers account is enabled with 'Amazon Easy Ship', which means that products are picked up from your business place and delivered directly to the customer. The entire process includes picking up the product from your place of business, handling the return of the product, responding to the buyer and accepting Cash On Delivery (COD) payments.

A great option, and a simpler one too, is to upgrade your account to 'Fulfillment by Amazon' (FBA). Through this service you can store your products in the fulfilment centers (warehouses) of Amazon India itself. Once an order is placed, the product will be picked up from the center and delivered to the customer directly. There are huge benefits too, which will boost your sales. Firstly, all the FBA products become eligible for free delivery and one day delivery options. Secondly, you may get the chance to compete for 'Buy Box'. This is the feature which appears with the 'Add to Cart' option when a customer clicks on a product he would like to purchase. Thirdly, as an FBA seller, you also get automatic upgrade to being a Prime seller as well, with no fees to be paid for the Prime Seller service.


How to get payment
Amazon India will directly deposit the payment of products sold into your bank account within 7 days of the sale of a product. The appropriate fees will be deducted by them only after a sale is made.


Special features to expand your business
Amazon India aims to help your business soar, with the sky not the limit! With this goal in mind, they provide:

Special tips & invaluable suggestions to boost your sales. All your queries can be communicated to them 24x7 and assistance is given to resolve issues quickly. Customized reports are created at your individual performance dashboard, which reflects your sales growth.


Services of third party service providers, with whose expert guidance you can ensure success in sales of your products. The support from the Amazon empanelled experts is provided to your as per your schedule only. You just need to tell the time and place to meet! The services they provide:


Shooting quality images of your products


Cataloguing your products


Transporting your products to the Amazon warehouse


Managing your Amazon account


Launching your products



Global expansion services for those who wish to expand their business overseas and not restrict it only to India. You can sell in USA and UK through the Amazon Global Selling Program through Amazon, which will provide you with an international logistics network to aid you in fulfiling your international orders.


Advertising services of the products you sell on Amazon India through 'Amazon Sponsored Products' service. Through this service, your products get promoted through specific keyword targeted ads aimed at both computer and mobile users. The ads provide prominence to your products on the search pages of Amazon India, with bidding starting as low as Re.1.You get free impressions and need to make payment only when your product ad is clicked. Real time results are displayed at your account.
Fees
You can avail of special promotional rates for selling on Amazon for a limited period. Referral fees start at 3 %, this varying by category. There is a fixed closing fee of Rs. 10 per unit sold. The shipping fees start at Rs. 30 per item shipped.

Given below is the pricing structure of products in the category of mobile phones and tablets:

Referral Fee: 3.5%


Closing Fee: Rs. 10/-.


Shipping fees: Minimum chargeable weight is 500 gms. In case of items that weigh more than 500 gms, you will be charged in multiples of the price applicable for each 500 gms. Amazon Easy Ship Fees is computed on volumetric or actual weight, whichever is higher. Volumetric weight is calculated as Volumetric Weight (kg) = (Length x Breadth x Height)/5000 where LBH are in cm.


Easyship charges for standard size items which weigh less than 5kgs: Local (pickup and delivery is in the same city) – 30; Regional (see regional zones below) – 45; National (for shipment across regions) - 65. This is the rate for the first 500gms weight. For the incremental 500 grams weight, the handling, shippind fee is: Local – 30; Regional – 35; National – 45.


Easyship charges for oversize items which weigh 5kgs and above: Local – 180; Regional – 200; National – 230. This is the reate for the first 5kgs weight. For every additional Kg weight, the handling, shipping fee is: Local – 18; Regional – 23; National – 29.

By regional shipping is meant one of the 4 regional zones, with the fee applicable if the shipment moves within the same region and the service is not within the same city. The zones are as follows:

Region1 - Chandigarh, Delhi, Haryana, Himanchal Pradesh, Jammu and Kashmir, Punjab, Rajasthan, Uttar Pradesh and Uttarakhand


Region2 - Chhattisgarh, Dadar and Nagar, Diu and Daman, Goa, Gujarat, Madhya Pradesh, Maharashtra.


Region 3 - Andaman and Nicobar, Andhra Pradesh, Karnataka, Kerala, Pondicherry, Tamil Nadu, Telangana, Lakshadweep.


Region 4 - Arunachal Pradesh, Assam, Bihar, Jharkhand, Manipur, Meghalaya, Mizoram, Nagaland, Odisha, Sikkim, Tripura, West Bengal.

Important Note: Check the additional service tax of 15% (which includes Swachh Bharat and Krishi Kalyan Cess) added to the fees.




Amazon Seller tips
Now here comes the most interesting part of this article: a behind the scenes look with first-hand insight and tips from a Seller who is using Amazon India to sell products.

You must provide your PAN (Permanent Account Number).


You must provide ISBN (International Standard Book Number)/ bar codes, namely UPC (Universal Product Code) or EAN (this is the International Article Number which is a 13-digit alpha-numerical bar code). However, an exemption can be applied for.


VAT is mandatory even if you are selling items which are exempted from VAT.


Selling through FBA is definitely cheaper because:


A part of the logistics fee is charged to the customer. It saves the seller the packing charges as products are sent to FBA in factory packing only.


It saves the seller the time involved in packing the product.


There are Amazon empaneled service providers who deliver the products to Amazon's warehouses for a reasonable fee, thus saving time for the seller.



For cataloguing of your products, you do not really need to set up a meeting with a service provider. All you need to do is send the details of your products on an Excel spread sheet to the Amazon empaneled service provider, who will upload the products on your behalf. You will be charged a reasonable fee for this service, such as, for example, Rs.10 to 12 per SKU (stock keeping unit) and a minimum of Rs. 600/-. The service provider can also get brand approval for your products for Rs 500/- or so.
The flip side
Although sales of your products would be reasonably good at Amazon India, the margins are thin.


For an RTO (Return to Origin) order, Amazon India charges the seller one way logistic charges which eats into the profits. No other e-commerce site charges a seller for an RTO order. [Note: RTO refers to those orders which are not delivered to a customer for various reasons such as for an incomplete address or a customer's refusal to accept a COD (Cash on Delivery) order.]


There isn't any 24x7 service telephonic assistance for sellers. It is only till 9.30p.m.


Real time results are not displayed at the Sellers' account for sponsored ads. It is delayed by 24 to 48 hours.


The free credit for sponsored ads is Rs. 750/- only since 1st September 2016. Earlier it was 50% of the amount which the seller transferred for the sponsored ads.


All the products do not qualify for free shipping for sales through FBA. Only those products whose selling price is more than Rs. 499/- will qualify for free shipping.

It seems that overall Amazon India is second in the seller's preferred list of sites to sell products, Flipkart being the first and Snapdeal a very distant third.


Contact information
For any queries or help in registration contact: 1800-419-7355 (from 8a.m. to 8p.m.)

Are you selling products online at Amazon India and/or at other sites? Give your feedback in the response box below.