3 Vegetable salad recipes for the vegetarian during winter

Salads are more than sliced onions, tomatoes and cucumbers. Salads can be interesting and make yummy, wholesome meals. If you are looking for ways to excite your taste buds, while maintaining a healthy quotient, these vegetarian recipes are for you.


Winter is a time when fresh veggies are in plenty, and it is always good to incorporate them in your diet. My family loves salads; if served with the right accompaniment, salads can be a meal in themselves. Over the years I have discovered that I do not have to include chicken, ham and tuna to make a delicious salad. Exciting vegetarian salads with fresh and vibrant seasonal veggies and fruits, and sometimes added grains and nuts, tease my recently-acquired vegetarian palate.

I love experimenting with different dressings as well as unexpected and brilliant combinations of ingredients. Of course, a good salad depends on the freshness of its ingredients. So I always recommend using only seasonal veggies and fruits, when you are tossing a salad. With the summer months gone and winter actually blowing in the kitchen, I am already thinking up menus that I can whip up now.

If you thought cold weather was only about potatoes and turnips, you need to spend a day or two with me in my kitchen! Check out three of my favourite winter vegetable salad and fruit salad recipes below. I hope you enjoy them as much as my family and I do.

Roasted Veggies and Millet Salad

This salad makes a great, warm lunch and serves two. It is healthy, packed with nutrition and filling at the same time. On the day I want to make this salad, I look for assorted fresh veggies that I can use, like sweet potatoes, butternut squash, bell peppers or zucchini. Carrots also lend sweetness, so I always try to add carrots into the mix. I prefer the red ones, as opposed to the orange variety. This salad is also great for clearing out the fridge and tossing any bits of leftover veggies and grains you have on hand. Served with a garlicky olive oil dressing, it makes a hearty and delicious light lunch.

Ingredients (for 2 servings):
3 to 4 cups of assorted winter veggies
1 tbsp olive oil, Extra Virgin preferred
1 red onion, small
1 cup cooked millet or Quinoa (or a grain of your choice)
2-3 bunches of kale, arugula or baby spinach
For the dressing:
5-6 garlic flakes, minced
2 tbsp olive oil
2 tbsp balsamic vinegar
Salt and pepper to taste
Steps:
Preheat your oven to 400 degrees F (200 degrees C).
Meanwhile, chop your veggies into half-inch pieces (exclude spinach or kale). Toss with olive oil and roast for around 20 to 30 minutes until they are lightly browned and soft. Pull out roasted veggies.
In a bowl, mix the millets, roasted veggies and greens. Whisk your salad dressing in a small bowl, pour over the salad and toss. Serve.

Crunchy Winter Veggie Salad

This is another mixed veggie salad, where you can choose your own vegetables. I like to slice the ingredients very thin, so I use a mandolin (that is a slicer). It is a salad that needs a little more work than the average salad, so I generally serve this to guests. It looks great, with the thin discs of turnips and radish, the green and the flames of chopped cabbage hearts scattered with pomegranate seeds.

Ingredients (for 8 servings):
2 medium beets, sliced thinly
8 small white turnips, trimmed and sliced thinly
1 head radicchio with roughly torn leaves
1 large fennel, sliced thinly
8 cups of roughly torn lettuce leaves
1/2 cup pomegranate seeds
For the dressing:
1/2 cup olive oil
3 tbsp white wine vinegar
1 tbsp Dijon mustard
3-4 clove garlic, grated
2 tsp chopped tarragon
Salt and pepper
For the croutons:
2 tbsp olive oil
2 tbsp unsalted melted butter
1 tbsp fresh thyme
3-4 clove garlic, grated
4 cups diced stale country bread
Salt and pepper
Steps:
Preheat oven to 350 degrees F (180 degrees C) and scatter bread for crouton on a baking sheet. Mix the other crouton ingredients and drizzle this mixture over the bread. Toss and season. Bake for around 20 minutes, until crouton are crisp and golden. Cool and store airtight at room temperature if making ahead.
Toss sliced veggies and leaves in a large bowl. Shake dressing in a jar and drizzle to coat the veggies. Toss in the pomegranate seeds and the croutons, sprinkle with more tarragon and serve.
Apple, Orange and Baby Spinach Salad

This is a favourite apple salad which I serve with pecans, dried cranberries and blue cheese for a delicious combination of sweet and salty, chewy and crunchy textures and lovely green colours.

Ingredients (for 8):
1 bunch tender spinach leaves
2 Red or Fuji apples, cored and sliced thinnly
Seedless Navel oranges, sliced or chopped
1/4> cup toasted pecan halves
¼ cup dried cranberries (sold as cherries in Indian markets)
1 chunk of blue cheese, cubed (use feta or goat cheese, if blue cheese is not available)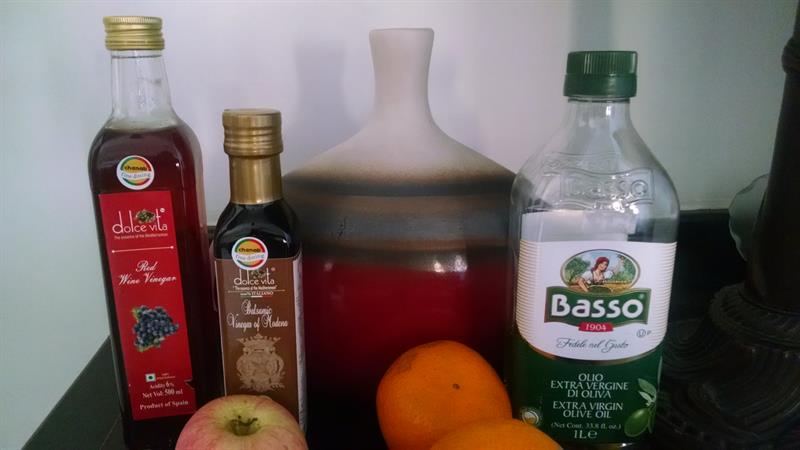 For dressing:
¼ cup olive oil
1 tbsp maple syrup
1 tbsp Dijon mustard
1 tsp Red Wine vinegar
2-3 tsp apple cider vinegar
Salt and pepper
Steps:
Slice the apples thinly, and soak them in ice cold water, to which a little salt is added. Leave them soaking for a few minutes and then drain away the water. This trick seems to keep my apples fresh for longer while I prep other ingredients. I hope there is some scientific backing to this.
Arrange the greens on a platter or at the bottom of a salad bowl. Layer apples, ornages, nuts, cranberries and cheese over the greens.
Shake the dressing in a small jar and pour over the salad just before serving. Toss lightly and then serve.


Note: Add boiled eggs or a piece of grilled chicken on the side if you cannot do without eggs and meat.