NIIT-IIM-C admissions for online Advanced Program in Data Sciences 2017

Are you eager to learn a data analysis course online? This article provides complete information about NIIT's advanced skill development program in Data Sciences, which includes managing and analyzing data. The data sciences online course is offered by NIIT in collaboration with the Indian Institute of Management Calcutta (IIM-C). Details of the course curriculum and fees and application process is provided for your ready reference.


National Institute of Information and Technology (NIIT) is offering through its online learning portal Training.com an advanced skill development program in association with the Indian Institute of Management Calcutta (IIM-C). The course will be conducted online through live interactive sessions as well as offline with campus visits at IIM-C. The first batch of the course will begin in March 2017.


Course Features
The course is of one year duration comprising of 250 hours of online Classes and two campus visits for a total of 10 days at the IIM-C campus. There will be live interactive class sessions with collaborative learning modules and projects.

The aim of the course is to enhance your skills to interpret both structured and unstructured data correctly, manage and analyze the data and apply it effectively in the context of what you are working on. You will thus be applying data science techniques to make a strategic decision.

The curriculum ensures that you will get in-depth knowledge and training in the current statistical and analytical tools & software such as XL-Miner, SAS Enterprise Miner, SPSS, Arena, Apache Spark, Python, etc. All what you learn you will then apply in projects related to the fields of finance, marketing, etc under the able guidance of an instructor from IIM-C.

On successful completion of the program, you will be awarded a certificate by IIM-C as well as attain the status of alumni of IIM-C.




Course Curriculum
Statistics for Data Science


Mathematical Methods for Data Science


Data Representation and Visualization


Econometric Methods


Categorical data analysis


Optimization


Stochastic Processes and Simulation


Database management and Datawarehousing


Machine Learning


Decision Support Systems and Actionable Intelligence


Big Data Storage and Analysis


Project work
Eligibility requirements
You must be a Graduate (10+2+3 or equivalent) / Post Graduate in any discipline with a minimum of 50% marks (aggregate marks).


You must have work experience of at least 3 years.
Selection process
Admission to the course will be given based your previous academic performance and work experience as well as performance in a pre-admission test.

List of Fees
Course fee
The course fee is Rs 2,59,000/- + 15% service tax. You can pay the course fee in instalments, as listed in the table below: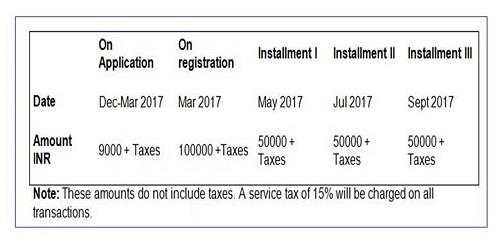 [Table source: www.training.com/management-courses-online/advanced-program-in-data-sciences]


Application fee
You need to pay an application fee of Rs. 9,000 + 15% service tax at the time of submitting your application. If you get admission to the course, then this amount will be adjusted in the course fee. If you do not get admission to the course, then you will get the full refund of the fee (along with the service tax). You can request for a refund t any time before start of the course by sending an email to: Support@training.com with details of your enrolment and of the bank where you want the amount to be transferred. You will get the refund within 30 days after confirmation of the refund request. This is provided you have not downloaded any courseware for the course.

However, the application fee will not be refunded if: (i) At any time during the application and admission process, your application is having inaccurate information or is incomplete; (ii) You do get admission to the course but do not join before the date mentioned in the offer letter.

Note also that the selection offer letter is for a specific batch of a course. You cannot transfer either the offer for admission or the initial amount to any other course or batch.


Campus visit fee
You will need to pay the mandatory Campus Module fee via DD drawn in favor of "Indian Institute of Management Calcutta" payable at Kolkata, just before every campus visit. This amount includes boarding and lodging. You will need to make all the travel arrangements and provisions for all travel expenses for each campus visit yourself.

The fee (for both campus modules) is Rs. 60,000 + applicable tax payable directly to IIM-C. This amount will be paid in 3 installments, before the beginning of each campus visit (Rs. 15,000 for the first visit, Rs. 24,000 for the second visit and Rs. 21,000 for the third visit)


Technical requirements for the course
In order to learn you will need the following hardware and software:

A computer or a laptop


A Web Cam


Headphone with Mic


Minimum 1MBPS broadband connection

You can check via this self-diagnostic test if you have the requisite software tools (naturally, the webcam, mike and internet speed cannot be verified through this link): https://na1cps.adobeconnect.com/common/help/en/support/meeting_test.htm

Note: In case you miss out on any session, a recording of it will be available to view any time.


How to apply
You have to register online here via the 'Apply now' link with your name, email ID, put in a password and provide your mobile number.

You can also call the Education Counselor at: 1800 208 1050

Last date to submit application: 9th March 2017

[Acknowledgement: A special thanks to Ms.Arti, Career Counselor who had an online chat with me to clarify details of the application process]