It is important to colour code your food

A good eating plan is to place a rainbow on your plate. Incorporate foods of different colours in your food. Think red, orange, yellow, brown, blue, purple, white and green! Remember, different coloured fruits and vegetables offer you different nutrients. All foods are not the same. So, make the best of what nature has to offer.


If there is one thing I practice conscientiously, it is adding a lot of different foods to my plate. The food that I put on my table is like a colour palette, with different hues. Experts advise that for good health, the selection of foods is absolutely fundamental together with the combinations of ingredients that go into a meal. For example, both spinach and oranges are wonderful separately, they are packed with minerals and vitamins and have fantastic antioxidant properties, but if they are eaten together their benefits are heightened. Food can make you look younger and improve your physical health.

Colour coding your food is important because the food then packs a punch. I follow a simple principle and serve something from every colour group, at every meal. This ensures that what I put on the table is not just tasty food, but it is wholesome as well, packed with a variety of nutrients. Doing so delays signs of ageing both external and internal.


Food colour codes

Foods can be categorized into five groups of colour -


Yellow, red and orange coloured foods
Blue, purple and deep red foods
Green coloured foods
Brown foods
White and cream coloured foods
Yellow, red and orange foods

Vegetables and fruits in these colours have potent antioxidant properties. They are naturally high in carotenes (such as beta carotene which is like a precursor of vitamin A), vitamin C and other nutrients like flavonoids, potassium, zeaxanthin and lycopene.

These nutrients have multiple benefits –


When included in the diet they enable the body to defend itself against the harmful effects of the sun, fight indoor and outdoor pollution, bring down stress levels, guard against the effects of chemicals and smoke
These foods induce the formation of collagen, and combat free radicals, thereby slowing down the visible signs of ageing
They also shield both cell and cell membranes within the body, and particularly that of the skin
Their anti-inflammatory properties help reduce the danger of cancer
They act as perfect aides to the nervous system, providing it support
Rich in vitamin C they help ward off colds and flu
There is evidence that they promote good eye health and cut down the possibility of macular degeneration
These fibre rich foods also reduce LDL, the bad cholesterol
They maintain and keep the joints health
The body's pH balance is kept in check by these foods

Orange, red and yellow fruits and vegetables that you should eat include –


Apricots
Bananas
Corn
Carrots
Cantaloupe
Ginger
Papaya
Pumpkin
Peaches
Pineapple
Pomegranates
Mangoes
Red and yellow bell peppers
Strawberries
Lemons
Turmeric

Another interesting fact about these colours is that they stimulate the appetite and also the nervous system. All those red coloured inviting sign boards we are so familiar with have been created for a reason. Notice how McDonald's, Pizza Hut, KFC and Burger King and others have these colours in their logo. It's because the colours make you feel hungry. Adorn your table with yellow, orange and red accessories to encourage those seated at it, to eat well.


Blue, purple and deep red foods

Foods coloured blue, purple and deep red while being tasty, also provide extremely high levels of flavonoids and have powerful anti-inflammatory and antioxidant properties. They produce other nutrients that promote good health. They are packed with vitamin C and various other elements such ellagic acid, lutein, resveratrol, quercetin, zeaxanthin and are also high in fibre.

There are multiple benefits of eating these foods –


They help lower bad cholesterol (LDL) and improve heart health
The function of the circulatory system (veins & arteries) is improved
Given that they are natural antibiotics, they help with allergies and prevent inflammation
They are good for the gastrointestinal tract and improve gut health
They are anti-carcinogens and also prevent tumours
Additionally, they are good for the skin and delay signs of ageing

Food in this colour spectrum include –


Brinjal (aubergines)
Black grapes
Beetroots
Figs
Cranberries
Cherries
Plums
Purple cabbage
Purple carrots
Red wine


Foods of this colour possibly have the highest amount of flavonoids, which are known to have almost miraculous healing property. This is why they are so good for you.


Green veggies and fruits

The green group of foods include green leafy veggies and a whole bunch of other fruits and cruciferous vegetables. These are great foods, as they are not just rich in antioxidants, but also aid detoxification. Which means, they help eliminate toxins from the body, leaving it clean.

This is how green foods help –

They are a good source of phytochemicals such as sulforaphane, isothiocyanates and indoles which stimulate certain enzymes present in the liver whose job it is to flush out potentially harmful compounds
Besides, green veggies are rich in folic acid, potassium and vitamin K. A few also have healthy amounts of omega-3 fatty acids and carotenoids
They are rich in potassium and help lower blood pressure naturally
A good source of sulphur (that string odour they emit when being cooked, is because of the presence of sulphur) green vegetables benefit the hair
Green vegetables and fruits delay the formation of wrinkles
Selenium present in these foods improves the immune system and metabolism
The presence of selenium makes the absorption of vitamin K more effective
These foods are great for weight watchers as they regulate blood sugar levels and prevent cravings for fatty and sugary foods

The choice of green foods include –

Asparagus
Cabbage
Spinach
Lettuce
Fenugreek
Kale
Leeks
Brocolli
Spring onions
Kiwi
Garlic

Herbs such as cilantro (green coriander), mint and basil also fall in this group of foods. They not only add aromatic flavours and enhance the appearance of the food, but also supply ample quantities of antioxidants. Use herbs fresh; once they lose their colour, there is a drop in their nutrition levels.


Brown foods that you must eat

Brown foods provide an abundance of fibre that is good for overall wellbeing. Fibre rich foods are filling and hence suppress hunger and cravings for high-energy sugary foods. Grains and seeds fall in this category of foods, as do nuts, beans and lentils. These foods are best consumed unrefined, as refining leeches all the healthy nutrients.

Benefits of brown foods are galore –

They are high fibre foods that satiate and keep blood sugar levels in check
Fibre aids with the digestion and regulates the bowel movement, keeping your body from becoming sluggish
These foods are slow to digest and supply a regular dose of energy
They balance the hormones in the body
Brown foods are a good source of vitamin E which is a skin friendly nutrient, it shields cells and cell membranes from damage
Other nutrients present in brown foods are – antioxidants, zinc, chromium, magnesium and B vitamins
Seeds and nuts particularly have healthy amounts of essential fatty acids and minerals like selenium, that are great antioxidant


Brown foods that must go on your plate –


Whole grain products (wheat, barley and millets etcetera
Almonds
Walnuts
Brown rice
Beans
Chickpeas
Brown mushrooms
Lentils
Sunflower seeds
Sesame seeds

Brown foods are rich in fibre, with low glycemic index or glycaemic index (GI) they keep you feeling full for longer. Fibre in combination with the phytoestrogens, which is also present in abundance, in many brown foods together protect against cancer and lower LDL cholesterol.

White and cream coloured foods

Foods that are naturally white or cream or pale yellow in colour are loaded with protein. Protein is essentially a muscle building nutrient and absolutely essential. Most of the white foods come from animal sources.

White foods are rich in essential nutrients –


White foods are rich in calcium
They are also packed with other healthy nutrients including antioxidants whih makes them the perfect anti-ageing foods
These foods help build strong teeth and bones
The protein rich foods help maintain muscle mass, especially when we begin to age
Essential fatty acids and Omega-3 present in many white foods help maintain young looking, healthy skin and supple joints
They are also a rich source for vitamin A and many other nutrients that help increase the ability to remember and overall brain power
The foods are also known to prevent mood swings and thwart depression

Good sources of white foods are –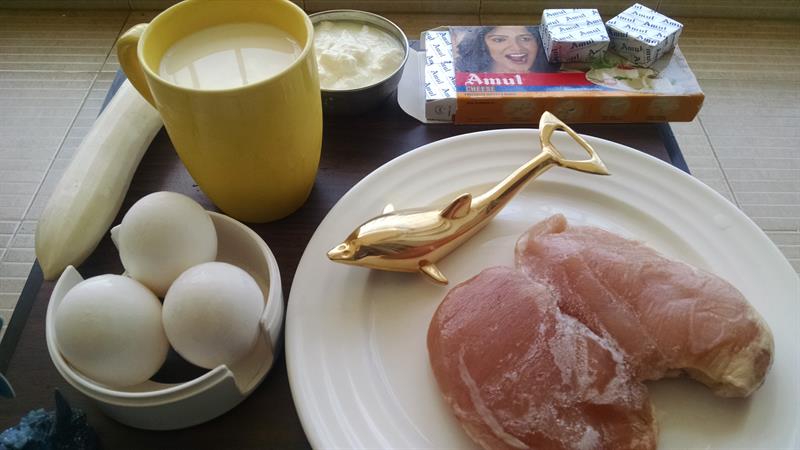 Curd (yogurt)
Chicken
Fish
Eggs
Soy milk
Turkey
Milk
Olive oil
Sesame oil
Tofu
Paneer
Cheeses

Although processed foods like maida, also fall in the category of white foods, these should be avoided. The best white foods are ones that are not refined. Refining foods depletes most of the nutrients from them. When you think of good white foods think of unrefined variants.

Having foods of different colours ensure that the body receives a balanced diet. It is not left deficient of vital nutrients as more the colours in your food palate the more extensive the nutrients.