Medicinal Value of Neem

Neem is one of the greatest gifts in a man's life. You may or may not agree with this, but you can't overlook the series of health benefits of neem. We all have eaten neem leaves cooked along with various vegetables, but seldom have we liked it. I can assure you that after reading this article, you will start eating more vegetables cooked with neem leaves.


Introduction
Neem trees are found almost everywhere, be it small towns or villages or big cities. A lot of people have neem trees near their houses. People use neem twigs for brushing their teeth. Dental care is one of the most important medicinal value of neem. We are also aware of other medicinal value of neem. I will be discussing them in the following sections. But before that, let me tell you how many food items are prepared from neem leaves.


Cooking vegetables with neem leaves
You can cook spring onions with pieces of neem leaves. To add taste to the dish you can add ghee. This dish can be enjoyed with chapattis.
"Neem Begun" is a popular vegetarian dish in West Bengal, where neem leaves are fried with nicely diced eggplants. Here also, to make it tastier you should add ghee. In West Bengal people consume "neem begun" with rice.
You can prepare chutney with neem leaves. You need to add a lot of sugar in the chutney to make it overcome the bitterness. You can add any vegetable or fruit that goes in a chutney, for example, olives, dates etc.
You can even make a nice curry with neem leaves and sweet potato. This combination makes the curry of neutral taste and you can have this curry with hot rice.
Lastly, if you just fry neem leaves with few garlic pieces, then also you can eat it as the starter side dish with rice.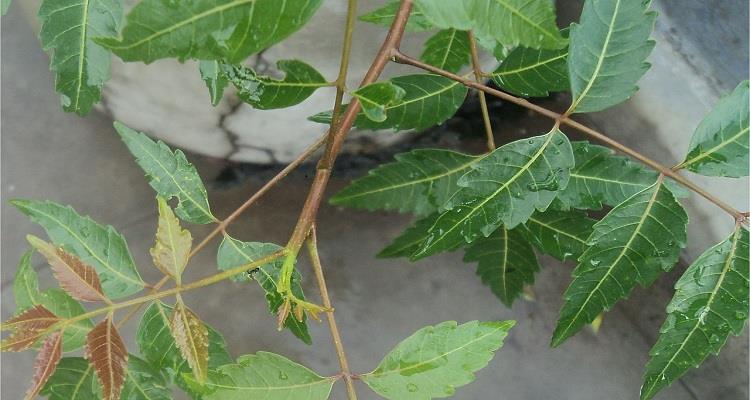 Medicinal values benefits of Neem
Firstly, a lot of people boil neem leaves and use that water for bathing. This water is said to disinfect the skin of any rash or pimples or acne etc. Those who are affected by chicken pox disease should bath in neem water to get rid of the pox spots of their skin quickly.Application of neem leaves during chicken pox is one of the most important medicinal value of neem.
The water in which you boil neem leaves is said to cure any kind of irritations in the eye. So if you boil few neem leaves in the water and wash your eyes with that water regularly many of your eye problems will be solved.
Neem leaves are very popular regulatory agent of blood sugar is another important medicinal value of neem. The juice made out neem leaves is very healthy for our body. If blood sugar patients consume the juice of neem leaves daily, then their sugar levels will go down.
The water in which neem leaves are boiled is good for a pedicure. After a long walk, you can soak your feet in water boiled with neem leaves for relaxation.
Medicinal value of neem plays a vital role in controlling dandruff. If you wash your hair using this neem water, then you will eventually experience a decrease in dandruff problems .
One of the most important medicinal value of neem comes into play while treating cancer. Neem leaves are even good for cancer or tumor treatment. But please don't think that chewing neem leaves or eating neem leaves in vegetables will cure cancer or tumor. The medicines for cancer or tumor have neem leaves as one of the ingredients.
A medicinal fact is common with that of the medicinal values of honey.If you apply the paste of neem leaves on your wound then it tends to heal quickly. Although it will take more time than the time taken by antiseptic creams, but this healing would be natural and will not even harm your skin. In fact, neem leaves are very much skin friendly, so it has a fast healing effect.
Lastly, neem leaves are very good for the skin and have a lot of beneficial effect on the skin. You can try a neem face pack instead of your costly face cream for a few months. You will definitely see a healthy glow in the skin after some time.
Conclusion
I would like to conclude by saying that medicinal value of neem plays a vital role in our dailylife. . People don't like neem leaves for their sour taste. But underneath their taste neem leaves hide the immense amount of benefits that can increase your longevity, rejuvenate your system and keep various diseases away from your body. So now, think again. Do you really want to avoid neem leaves from your daily nutrition? Or now have you changed your mind? Do share your thoughts after you finish reading.