Online applications for SBI dealer finance schemes for operating a petrol pump

Looking for finance schemes for a petrol pump dealership in India? This article provides information on SBI's Electronic Dealer Finance Scheme (e-DFS) for petrol pump dealers. You will get details of e-DFC as well as of SBI's Electronic Vendor Financing Scheme (e-VFS).


State Bank of India (SBI) has provided finance for over ten thousand petrol pumps through an easy scheme called Electronic Dealer Finance Scheme (e-DFS). You can take advantage of this scheme too! It is totally hassle-free and provides an easy and convenient way for e-operation of your account. The e-DFS is available to all those petrol pump dealers who are having an agreement with Oil Majors. Along with oil dealers, SBI e-DFS is also open for the inventory funding of dealers of other industries.

There are basically two related finance schemes, one is the Electronic Vendor Financing Scheme (e-VFS) and the other is the Electronic Dealer Financing Scheme (e-DFS). The first finances supply chain partners of corporate companies and the other finances dealers for their purchase from sellers in the corporate world.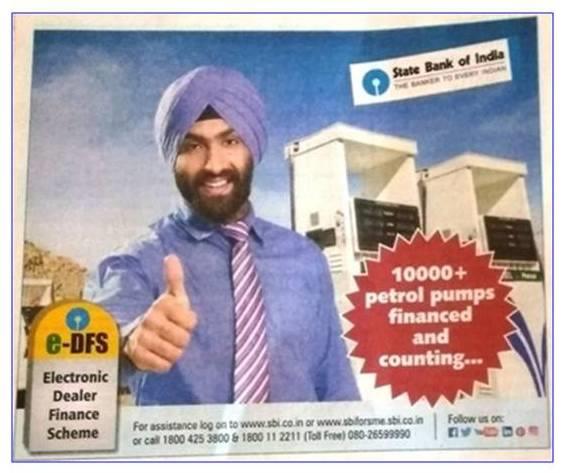 [Image source: SBI print advt. in Hindustan Times, Mumbai edition, 16/03/2017, page 3]


E-VFS Features
The aim of Electronic Vendor Financing Scheme (e-VFS) is to provide finance to vendors and suppliers for their receivables from buyers in the corporate world who are Industry Majors (IMs). The corporate buyer simply needs to upload details of invoices raised by the vendor on the SBI online platform. This ensures that the requisite amount gets credited to the account of the vendor right away.

The e-VFS scheme can be accessed at the SBI e-VFS scheme online platform, for which you first need to register for an online SBI corporate account.

It is easy and convenient to use, doing away with tedious paperwork. Online transfer of funds in real time and MIS is ensures and it can be customized as per your business requirements. You can also easily integrate it with your Corporate Enterprise Resource Planning Software (ERP)/SAP.




E-DFS Scheme features
The aim of the Electronic Dealer Financing Scheme (e-DFS) is to provide finance for dealers to purchase the requisite supplies from a corporate seller. The corporate seller simply has to put in a request online at SBI's online portal to debit from the dealer's account by providing details of the requisite invoice raised on the dealer. Once this is done, the amount gets credited right away to the account of the corporate seller.


Benefits of the schemes
How the seller benefits
In addition to getting quick access to low finance rates, a seller is able to reduce the costs incurred of capital, thanks to the efficient online system which displays Days Sales Outstanding (DSO) and incurs low finance costs.


How the buyer benefits
A seller benefits with a steady & stable supply base. Additionally, the seller is able to reduce working capital requirements through the online display of Days Payable Outstanding (DPO) ratio.

As you can see, SBI provides a wonderful online platform for the entire supply chain from one end to the other, providing buyers and sellers with an efficient and cost-effective management of the entire working capital cycle.


Contact information
For any query send an email to: query.scfu@sbi.co.in
Ph: 1800-425-3800 (Toll free) / 1800-11-2211 (Toll free) / 080-26599990
Supply Chain Finance Customer Support: 044-66195622 / 044-6619-5623 / 044-66195611 / 044-66195612