Apply online for IGRUA course admissions 2017-2018 and get a commercial pilot license

Are you searching for commercial pilot training courses in India? Learn from this article how to become a pilot in an airlines carrier in India through the pilot training course offered by Indira Gandhi Rashtriya Uran Akademi (IGRUA). You will get complete information of the course fees, eligibility requirements and the application procedure to apply for the 2017 and 2018 forthcoming courses at IGRUA.


Indira Gandhi Rashtriya Uran Akademi (IGRUA) invites eligible candidates to join India's best flying training institution and, as their tagline goes, "Provide Wings to Dreams". IGRUA is offering Ab-initio to Commercial Pilot License (CPL) course which are scheduled for various times this year and early next year, namely in July 2017, August 2017, January 2018 and February 2018.


About IGRUA
IGRUA is under the aegis of the Ministry of Civil Aviation (MoCA), Government of India. Both national and international candidates register at IGRUA for pilot training. A modern fleet of aircraft is used for training, both of the single engine and multi-engine variety. All faculty who impart the training are highly qualified with personal experience in flying aircraft either in the civil sector or in the military fields. Naturally, they do ensure at all times the safety of the trainees.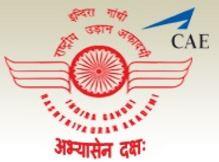 [Logo image source: http://www.igrua.gov.in/]

The IGRUA campus provides for residential hostel accommodation for both boys and girls with meals cooked by qualified staff. Trainees can avail of the many sports facilities, including for badminton, basketball, squash, football, etc. There is also a gym on the campus to keep you fit.

For the training aboard aircraft, exclusive air space has been provided for IGRUA. Ground training facilities and modern navigational aids are top-notch.


IGRUA CPL course features
The IGRUA CPL course provides wonderful job opportunitis for successful candidates, who can soar high on the flights of national and international airline carriers. IGRUA does organize on-campus placement interviews with national carriers.

The course is of 18 months duration. A possibility of extension may be scheduled later. Totally there are are 150 seats available, out of which 75 are for general candidates, 23 for SC candidates, 11 for ST candidates and 41 for OBC candidates.




Eligibility requirements
Age criteria: You should be 17 years of age at the time of joining the IGRUA course.


Education qualifications:

For general candidates: You must have passed English at 10+2 level with a minimum of 55% aggregate marks in Maths & Physics.


For SC/ST/OBC candidates: You must have passed English at 10+2 level with a minimum 50% aggregate marks in Maths & Physics.


Note: If you are appearing in the qualifying examination in 2017, you are provisionally eligible to apply & are subject to compliance of eligibility criteria.

Medical fitness: You will need to submit a Class-I medical fitness certificate as proof of your fitness. You may join initially with a Class-II medical fitness certificate, but will later need to clear & submit a Class-I medical fitness certificate. Refer: Class-I medical examination centres & Class –I examiners
Course Fees
Note that candidates should check the IGRUA financial assistance provisions before applying for the course. The breakup of the fees is as follows:

Application fee: General category candidates and OBC candidates have to pay an application fee of Rs. 6000/- (non-refundable), while SC and ST candidates are exempt from paying this fee. This fee can be paid via internet banking, debit or credit cards or in cash in any branch of State Bank of India through a payment slip to be generated online.


Training fee: The training fee for this course is Rs. 38 Lacs. This can be paid in four quarterly installments. A service tax may additionally be levied (presently it is subjudice).


Additional expenses: There will be additional expenses of approximately Rs. 1.50 Lac towards cost of study material, uniform, navigation computer, head phones, DGCA/ RTR examination and License fee.


Hostel fee: A hostel fee of Rs. 10,000/- approximately per month will be charged for mess & hostel accommodation on twin-sharing basis within the campus. Boys and girls stay in separate hostels.


Commitment money: If you are selected at the final selection stage (see selection process below), then you will need to pay commitment money of Rs. 2 Lacs by 10th July 2017 (this amount is non-refundable but will be adjusted against the total fee) to secure your seat for the course.

Useful related resource: SBI education loans for pilot training & air hostess training courses in India & abroad


How to apply
You need to register and apply for the online written test, which will be conducted at specific centres on 14th May, 2017, at: IGRUA Entrance portal


You can download your Admit Card on or after 4th May 2017. The admit card will have your interview & aptitude test schedule and will be valid only if you are shortlisted in the written test.
Selection process
Based on the score in the written test, candidates will be shortlisted for the interview / Viva, for which you will need to bring along the following documents in original + one photocopy of each document:

Proof of date of birth (such as 10th Class certificate).


Your Class 10 mark sheet.


You 10+2 mark sheet.


Caste Certificate if you are an SC/ST/OBC category candidate.


If applicable, a certificate from the competent Authority that as an OBC category candidate you do not belong to Creamy layer.


Admit card which you had downloaded for the written test

Once you clear the interview/Viva, you must clear the Pilot Aptitude Test/ Psychometric Test. Only successful candidates in these tests would be eligible for final selection.




Important Dates
Last date to fill in online application (for fee payment by bank challan): 12th April, 2017


Last date to fill in online application (for fee payment by online mode): 22nd April, 2017


Download Admit Card: 4th May, 2015


Online written test: 14th May, 2015


Interview/ Viva Schedule on Website/ Emails/SMS for Successful candidates in Written: 23rd May 2017


Interview/ Viva & Pilot Aptitude Test starts from: 12th June 2017


Result of written test on IGRUA website: 26th June, 2017


Last Date for payment of Commitment Money: 10th July 2017


Date of Joining First Batch: 19th July 2017
Contact information of IGRUA
Indira Gandhi Rashtriya Uran Akademi
Fursatganj Airfield,
RAEBARELI (U.P.) – PIN 229302
Ph: 0535 – 2441147 Ext (127) // Fax: 0535-2441527


IGRUA Delhi Office contact numbers: 011- 24615370, 24655796 // Fax: 011-24603192

E-mail: igrua.exam@gmail.com
Website: http://www.igrua.gov.in/