How to know gender of your baby without ultrasound scanning?

Curious to know your baby's gender? Want to know whether the baby in your womb is a boy or girl? Here is an article that helps you predict your baby's sex.


Every parent-to-be is very curious to know the gender of their unborn baby. Every would-be-mom and would-be-dad starts loving their child even before they see him/ her. Below are some popular myths or methods to guess the sex of unborn baby.


How to predict baby's sex at home

Linea Nigra: Linea Nigra is the line which appears on pregnant woman's tummy during pregnancy. This line runs from the vagina towards upside crossing the navel. There is a myth that if this line runs straight from vagina up to the breast line, then the baby in the womb is a male child. But if the streak is little or more curved, or is not completely straight then the baby in the womb is a female child.



Chinese gender predictor: Chinese gender predictor is very popular these days among youth. Chinese Gender prediction chart works by doing calculation on the basis of lunar age of mother at the time of conception and the month of conception. You just need to look at the chart table and check out whether the baby in your womb is a male or female. But the level of accuracy of this chart is only 60%- 70% because this chart considers month of conception and mothers' age according to Chinese calendar which is very different from Indian calendar.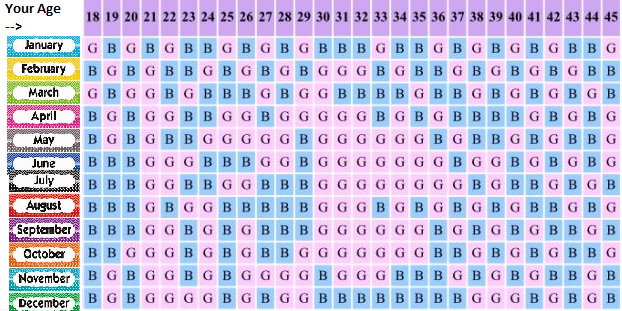 How are your taste buds: Old ladies were used to make predictions on the basis of eating habits of lady during pregnancy. It is assumed that if mom craves for sweets, then it is a baby boy. But if the mom craves for sour stuff, then it is a baby girl.

How do you sleep: Another myth to predict baby's gender by old wives is the side you feel comfortable to sleep. They believed that if you like sleeping on your right side, then you have a male child. But if you feel comfortable to sleep on your left side, then you have a female child.

Shape of your tummy: Many old ladies can make 100% correct prediction just by throwing a look upon you. They assume that if mother has football type of round tummy pointing out words, then it is a baby boy. But a comparatively flatter stomach means girl child.

Disclaimer- This article is meant for the sake of general information or fun only. Don't take it seriously. None of the above mentioned method is scientifically proven or 100% true. I have written this article to satisfy the curiosity of would-be-parents to guess their baby's gender. I am myself blessed with two daughters. If I oppose my own points, then I will share some real facts here. I was used to sleep on my left side during my first pregnancy but on my right side during second pregnancy. I craved for sweets even with a female child in my womb. But linea nigra was curved both times.