How to submit online application for GST registration

Searching for guidelines for the GST online enrollment procedure? This article provides the steps which will guide you through the enrollment process for Goods and Service Tax (GST) registration. The list of images and documents to be uploaded during the online GST application procedure is also mentioned.


The Central Government of India has made it mandatory for each & every tax payer who is registered under the Central law or a State law to enrol online at the official Goods and Service Tax (GST) website. That is, it applies to those registered under: Central Excise, Service Tax, State Sales Tax or VAT (other than exclusive liquor dealers if registered under VAT), Entry Tax, Luxury Tax, Entertainment Tax (other than those levied by the local bodies).

Nobody can enrol through offline submission as forms and documents' submission offline is not available. On enrolment, you can file returns and make tax payments online. There are no fees at all for the online enrolment process. A taxpayer is not required to enrol separately with the Central and a State authority under GST, as the enrolment process has the common platform for both, vis-à-vis registration, returns and Challans. Getting help from theTop GST consultants is another possible way to file GST correctly.

Note that currently the GST official website can be accessed only by IP address domains within India, though the Govt. is looking into the future possibility of giving access to some IP domains beyond Indian shores. Check also system requirements.

Also note that the enrolment window will re-open on 25th June 2017 and will remain open for three months thereafter.




Before the enrollment process
Before filling in the online registration, ensure that you have a Provisional ID and password received from the State or Central Authorities. If you do not have it, then you need to right away contact your State VAT Department because without the provisional ID and password you cannot even start the registration process. Other than this, you would need to have a valid e-mail address, mobile number, Bank account number and the Bank IFSC (Indian Financial System Code).

It is advisable to read the GST Frequently Answered Questions (FAQs) before starting the online enrollment process. The FAQs are in English, Hindi, Kannada and Tamil.

Images which need to be scanned and ready for uploading:

Photograph of Promoters/ Partners/ Karta of HUF (JPEG format, up to 100KB)


Photograph of Authorized Signatory (JPEG format, up to 100 KB)


Opening page of Bank Passbook/ Statement – this should clearly show the Bank account number, address of the branch and address of the account holder as well as a few transaction details (this has to be in both PDF and JPEG format.)

Documents which need to be scanned and ready for uploading:

Proof of Constitution of Business (PDF or JPEG format)


In case of Partnership firm: Partnership Deed of Partnership Firm (PDF and JPEG format in maximum size of 1 MB)


In case of Others: Registration Certificate of the Business Entity (PDF or JPEG format)


Proof of Appointment of Authorized Signatory ((PDF or JPEG format up to 1 MB)

Note: If the file size and format of the document is not as per guidelines given, then you are likely to face problems at the time of uploading them. Neverthless, you are planning to apply for GST Registration in Bangalore, Mumbai or anywhere in India, you can always get the help of the best GST consultants if you don't want to get to the nitty-gritty of the financial jargons




During the enrollment process
Details in the enrollment application can be filled up in English only. There is a Dashboard page where you can access your application later via "provisional ID enrollment".

You are also advised to take these security measures:
(i) Do not share the provisional ID and password with anyone;
(ii) In case you discover that username and password is known to a third party, you must change it immediately;
(iii) In case you feel there has been unauthorized activity on your user account or you discover that information you entered is missing or leaked, you should inform the GST Helpdesk immediately (contact number and email ID provided at the end of this article.)


How to enroll for GST


Go to 'New User Login' and first select the checkbox for declaration; then click on 'Continue'


Now you will see on your screen the log in page. Here, you need to fill up the 'Provisional ID' box with the username which you will have received from the State VAT and CBEC (via email or SMS.)


Next, in the 'Password' box enter the password which you will have received from the State VAT and CBEC (via email or SMS.)


Next, there is a heading 'Type the characters you see in the image below' below which is the box where you have to fill up the captcha text as displayed.


Now click on the 'Login' button.


You should be able to see the Provisional ID Verification page. You now have to enter your email ID and mobile number in the boxes provided for these. Both the email & mobile number must be of the primary authorized signatory.


Note here: You will receive two One-time Password (OTPs) at the e-mail address and mobile number which you entered. Bothe these OTPs will be required for verification. Do not share these OTPs with anybody.


Click the 'Continue' button. Enter the OTP receive via email in the box for 'Email OTP' and the OTP received at your mobile number in the box for 'Mobile OTP'. You must enter these within 10 minutes of receipt via email/mobile. (In case you do not receive the OTPs, you should click on 'Resend OTP'.


Now click on 'Continue' and you will see a page of 'New Credentials' where you enter your username (8 to 15 characters, with a combination of numbers, alphabets and special characters.) and a password (8 to 15 characters, combining one alphabet, one number, one upper case letter, one lower case letter and one special character) of your choice (this will be required for future log ins.) Enter this new password in the 'Re-confirm password' box.


Click on 'Continue' button and you will see the Security Questions page, with 5 questions displayed. For each security question, enter the answers.


Click on the 'Submit' button and you will see a message as follows: "Username and password have been successfully changed. Kindly login using these credentials" is displayed. So now you can login to the GST Common Portal using the username and password you just created.


Enter the username and password, type captcha text as shown on the screen and log in. Once the welcome page appears, click on the 'Continue' button. You will see various tabs: Business details, Promoter/ Partners, Authorized signatory, Principal place of business, Additional place of business, Goods & Services, Bank accounts and Verification. Click on each of these tabs and enter the relevant details.


In the last tab, namely Verification, you need to to digitally sign the application using Digital Signature Certificate (DSC) or E-Signature or Electronic Verification Code (EVC), without which the application with the details will not be completed.
[refer to the tutorials for better clarity about this aspect: http://tutorial.gst.gov.in/userguide/#t=Enrolment_of_Existing_taxpayer_with_Provisional_ID_and_Password.htm]


Once all the requisite verification is complete, you will see the 'Success' message on your screen. When this appears, within 15 minutes you will receive the acknowledgement at your registered e-mail address and mobile phone number. The receipt of your Application Reference Number (ARN) will also be sent at your e-mail ID and mobile number.
GST Forms and Details
Below are two tabulated images of the various GST forms and details which require to be submitted.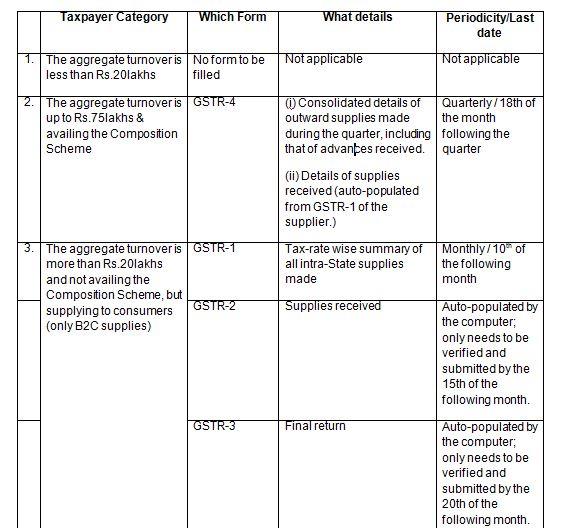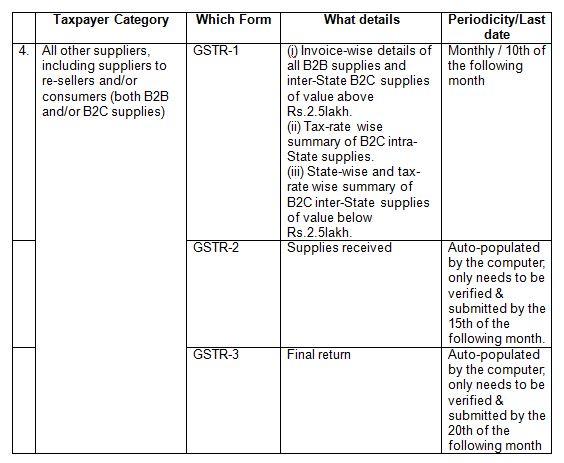 [Tables created by author as per information in advt. in 'The Hindu', Mumbai, page5]

Note: (i) In case where the invoice details have to be submitted, an offline free software tool provided by GSTN can be used during the month, which can automatically convert into return on uploading.

Due to lack of space, other details can be referred to : http://www.cbec.gov.in/resources//htdocs-cbec/gst/returns-of-GST-onlineversion-07june2017.pdf;jsessionid=D1ABB1C2E01992BE6B86B423E935D8DF


Special provision for initial months Provision has been made for the first two months of transition, wherein a simplified Form GSTR-3B, containing only summary details, has been provided for all classes of tax payers for acclimatization of the taxpayers with the new GST tax regime.

Accordingly:


Provision for low compliance burden In order to provide for a low compliance burden on the taxpayers, the Government has created facilitation centres, Offline utility for return filing and application interfaces. There are also GST Suvidha providers and GST Practitioners to assist in the filing.

GST Invoice FactsThe Government has issued an advertisement notification to allay the apprehensions traders have about GST invoices. These are the facts about GST provisions relating to invoice (reference – TOI advt., Mumbai edition, 14th June 2017, page 15):


As a GST tax payer, you are free to create your own design format. It is just that, as per GST law, you need to have certain mandatory fields in the invoice.


The time period which has been prescribed for issuing an invoice is different for goods and services. For goods, it is any time before its delivery; for services it is within 30 days from the date of supply of service.


If you are a small tax payer conducting a large number of small transactions for up to a value of Rs.200/- per transaction to unregistered customers, then you do not need to issue an invoice for every such transaction. You can issue one single consolidated invoice at the end of each day for all transactions done during the day. However, you must issue the invoice when a customer demands it.


Generally, the transporter needs to carry a copy of the invoice. However, GSTN is offering a facility to obtain an invoice reference number. When you generate this number, your goods do not need to be accompanied by a paper invoice during transportation. Thus, this facility resolves the major problem of a paper invoice being misplaced or torn during transportation of goods.


If you are a tax payers with an annual turnover of up to Rs.1.5 crore, then, as per the GST law, you do not need to mention the HSN Code of goods in the invoices (HSN is the Harmonized System Nomenclature code used to classify goods for computing of VAT).


Since there are a large number of transactions in banking, insurance and passenger transport sectors, you do not need to mention the address of the customer and the serial number in the invoices.


In case goods are being transported for delivery, but the quantity to be supplied is not known at the time of removal, then the goods may be removed on the delivery Challan and the invoice may be issued after delivery.


There is no need to issue a separate Bill of supply if VAT (Value Added Tax) invoice is issued for non-taxable supplies.


For any queries:
Help Desk: cbecmitra.helpdesh@icegate.gov.in // Ph: 1800-1200232
Help Desk: helpdesk@gst.gov.in // Ph: 0124-688999
Twitter handle for any GST-related query: @deskGST_GOI and @GSTN_IT

Contact information In case of any help required, you can contact the GST Help Desk at: Ph: 0124-4688999
Email: helpdesk@gst.gov.in

[Note to readers: The author is not a financial expert and has provided this information based on details gathered from various sources. Please consult a professional tax consultant / Chartered Accountant or contact the Help Desk contacts above for clearing your doubts about GST registration and its other aspects.]