Calicut University CAP 2017-18 Fourth allotment results and ranklists

Searching for the Calicut University CAP 2017 third and fourth allotment results and ranklists which is recently published on official website? Check them at Calicut University official website for UG Degree admission 2017. Students can check Important dates, eligibility, CU CAP 2017 fourth Allotment Status and Admission date details herewith.


Students who had applied for Centralized Admission Process (CAP) and CU this year (2017-18) and who would like to know the result of third and fourth allotment CAP 2017-18 can read this article to know how to check Calicut University UG Degree admission 2017 under various Quota through third and fourth allotment. They can also check previous first and second allotment from the same website.

As per CAP / CRP official website and its announcement, this is the time to get Admission done since admission for CU affiliated colleges are already begun very recently and CU UG Degree classes may start soon. Candidate who had appeared for the same can check their University of Calicut CAP UG Degree third and final allotment results list and take admission from this week onward and it closes afterwards to commence the UG Degree first year classes soon.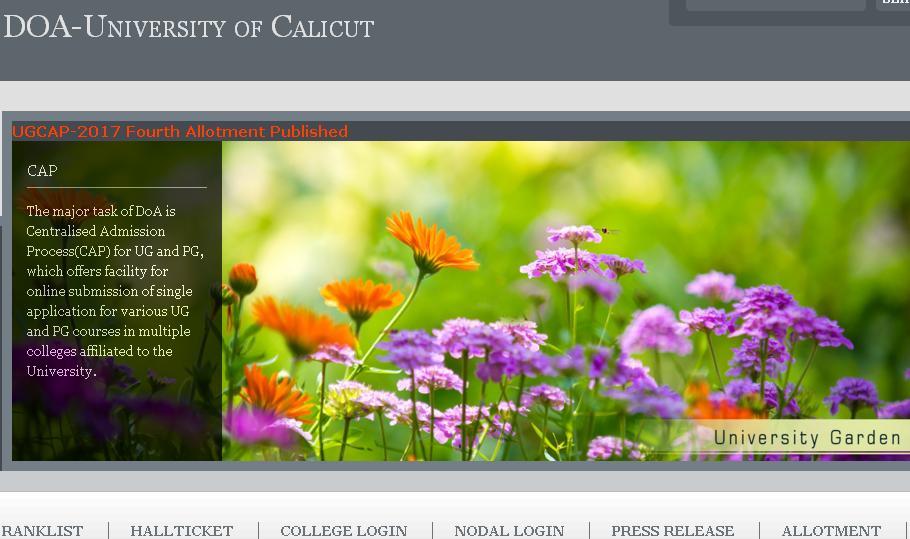 At the moment, candidates who have appeared for UG Degree admission in Calicut University under various Quota can also login and check their status by using CAP ID and Password etc. at Calicut University. The student has to keep ready the Reg Number and other detail as stated below to know ohw to login for various Quota through CAP website and then follow the given steps below.


University of Calicut seat Allotment result and class commencement 2017-18
It is expected that Calicut University will commence the classes from first week of July 2017 for the academic year 2017-18 for UG Degree courses. Thus students are requested to follow the guideline given by CU / CAP 2017. Students who got first and second allotment of Calicut University (Centralized Admission Process) CAP 2017 results and ranklists for UG Degree admission 2017 should pay the mandatory fee to confirm the present allotment and seat, this instruction is also for whom that got third and fourth allotment result recently.

The following Courses are not included the CAP 2017-18:

All Under Graduate Programmes with Entrance


Bachelor of Audiology and Speech Language Pathology


BSc Nursing


BSc Medical Laboratory Technology


BSc Medical Microbiology


BSc Medical Biochemisrtry


Bachelor of Physical Education


B.Vocactional


All UG programme for which affiliation orders are issued after the commencement of online registration


PG Diploma/Certificate courses


Admissions to the Autonomous Colleges

The Admit Card will be available only to the candidates those who have received the allotment for their first option. Candidates who received allotments to options other than their first option can download the ADMITCARD only by canceling all their higher options.

Mandatory fee structure for CAP 2017:
For General category candidates: Rs 250/-
For SC/ST candidates: Rs 100/-

Calicut University CAP 2017 third and fourth allotment results and ranklists published

This has reference to Calicut University Centralised Admission Process 2017 Fourth allotment results and ranklists published as per scheduled at official site and as per scheduled (date, time and other detail) given by Calicut University notification at http://cuonline.ac.in/uguploads/NOTIFICATION.pdf. From this information, you will find College wise allotment, Last index, Ranklist and other info on Calicut University Degree allotment 2017-18 for third and fourth allotment and so on.

Fourth allotment results and ranklists published of Calicut University CAP 2017

How to check Calicut University CAP 2017 result?

1. Enter CAP ID
2. Click on "Submit"
3. Get the detail

Important dates of University of Calicut CAP 2017 fourth allotment and admission / CAP-UG Schedule

University of Calicut CAP 2017 and its Important dates are given in the fourth and third allotment announcement recently, candidates can check the same on time for the admission in UG Degree First year in Calicut University affiliates and its official PDF URL given.

University of Calicut CAP 2017 first and second Allotment Results were already been published earlier. Admissions were taking place from June 2017 to date. Management and Sports quota Special Allotment Results were scheduled to be published soon by CAP and they have announced students to check them out.

Candidates can also get the information such as various Quota Admission and its Last Date Extended and other quota Seats in College etc. Kindly check the official website of CAP at http://www.cuonline.ac.in/ for more detail.

Note: If you are qualified students for admission in UG Degree in any reputed and affiliated Kerala University thru UGCAP 2017 then you need to submit the relevant documents mentioned as follows;

Check-list for Admission to CAP 2017-18 UG Degree
HSC / 12th or equivalent certificates
Allotment letter / memo
Transfer certificate (TC)
Conduct certificate from the school that student last attended
Community certificate
Income certificate
Candidates claiming bonus mark should produce relevant certificates to proof
Four Passport size photographs.

Sport allotment for SC/ST Candidates will be done at the office of the Directorate of Admissions, Tagore Nikethan, University of Calicut, Kerala. Related Schedule will be published later.

Address and contact number of University of Calicut
Malappuram, Thenhipalam,
City Thenhipalam, Kerala 673635,
Phone Number 0494 240 7227

UGCAP 2017 fourth allotment detail can also be found at http://ugcap.uoc.ac.in/.

Hope the above information helps the students.