How to submit JAM 2018 online applications for IISc & IITs M.Sc., Ph.D. admissions

Want to know how to register and apply for JAM 2018? This article provides a step by step guide to applying online for Jam 2018 IISc & IITs M.Sc. and M.Sc.-Ph.D. admissions. You will get complete information on JAM 2018 eligibility qualifications, registration fee, courses offered by IISc and IITs, etc.


IIT Bombay has announced the schedule for the Joint Admission Test (JAM) applying for admissions to M.Sc., Joint M.Sc.-Ph.D., M.Sc.-Ph.D. Dual Degree, etc. programmes at the various IITs and the integrated Ph.D. Degree programs at IISc. IIT Bombay is one of the most prestigious institutes in India.


Courses offered based on JAM 2018 marks
The table below lists the names of the institutes and the courses to which you can seek admission on the basis of your score in JAM 2018 (open the table image in a new page for better clarity).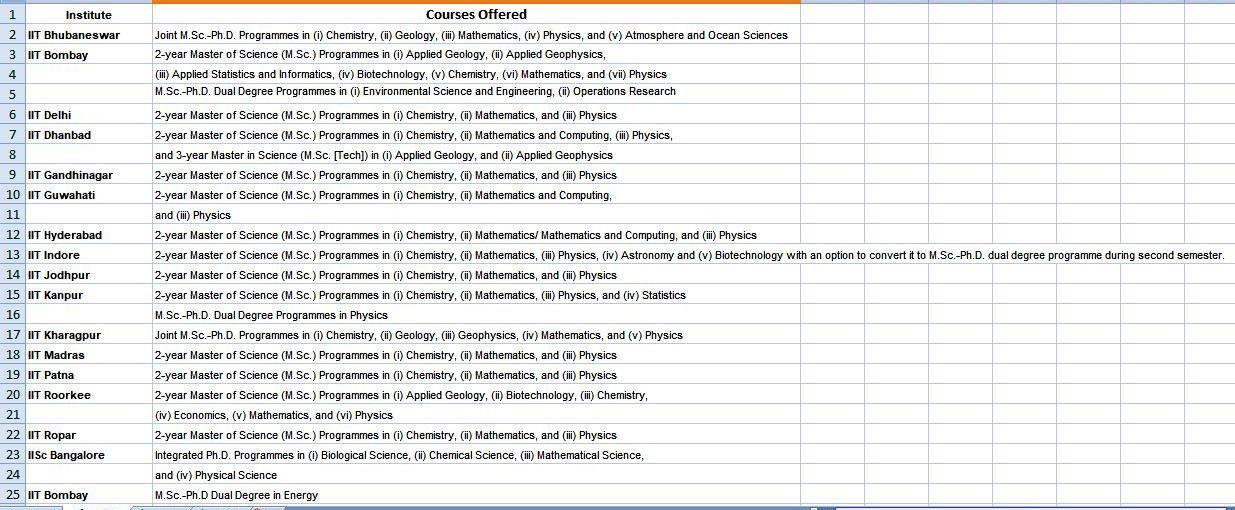 [Table created in an Excel sheet based on info at official website http://jam.iitb.ac.in]


About JAM 2018
IIT Bombay is the organizing institute for JAM 2018, which is computer-based online exam. You must qualify in the relevant Test Paper as well as fulfil the requisite eligibility requirements (ERs) along with the required Minimum Educational Qualifications (MEQs) and of the academic program for which you are seeking admission.
Subject-wise papers and Codes:

Biotechnology (BT)


Chemistry (CY)


Geology (GG)


Mathematical Statistics (MS)


Biological Sciences (BL)


Mathematics (MA)


Physics (PH)
Eligibility requirements
Nationality: Both Indian and foreign nationals can register for JAM 2018


Age restriction: None


Educational qualification: This will be updated soon at the official website. If you have appeared or are due to appear in the final exam of your qualifying degree in 2018, then also you can appear for JAM 2018. You can apply for provisional admission provided you complete all parts of the final exam by the date of registration of the institute where you are seeking admission and the requisite proof of having passed the qualifying degree is submitted by 30 September 2018.
Application fee
Female candidates of all categories: Rs. 750/- for one test paper and Rs. 1050/- for two test papers.


Candidates applying under SC/ST/PwD category: Rs. 750/- for one test paper and Rs. 1050/- for two test papers.


All other candidates: Rs. 1500/- for one test paper and Rs. 2100/- for two test papers.

Note: Refer to the official notification to know about additional fee for change of test paper, category, etc.

Schedule
Online registration and application begins: 5th September 2017


Online submission of application & uploading of documents ends: 10th October 2017


Last date to pay application fee online: 10th October 2017


Date of JAM 2018: 11th February 2018


Time of JAM 2018: 9a.m. to 12 noon for Biotechnology, Chemistry, Geology and Mathematical Statistics papers; 2p.m. to 5p.m. for Biological Sciences, Mathematics and Physics papers.


JAM 2018 Results: 20th March 2018
How to apply
It is advisable to go through the application guidelines provided at: http://jam.iitb.ac.in/how_to_apply.html

Step by step guideline to registration:

Register for JAM 2018 via online mode only here at the JAM Online Application Processing System (JOAPS) page from 5th September, 2017.


You must register with your own valid e-mail address (not of somebody else) and password and also have your own mobile number for the registration process.


Fill up details for personal information, eligibility degree details, JAM paper(s), test centre choice, etc.


You will need to upload scanned copies of your recent photo, signature and requisite documents.


Photo requirements: (a) a coloured full-face view looking into the camera directly; (b) in JPEG format (minimum 240 X 320 pixels, maximum 480 X 640 in pixels, file size 5KB to 200KB); (b) of the measurements of 3.5 cm width X 4.5 cm height; (c) with background in white or a very light colour; and (d) one which has been taken after 1st August 2017, ideally in a photo studio to ensure good clarity. A poor quality photo could result in your application being rejected.


Signature requirements: In a rectangular box of size 2 cm height X 7 cm on an A4 white paper, put your signature using a black or dark blue ink. Do not put initials and do not sign in all capital letters. Scan the digital image and save it in JPEG format (maximum 160 X 560 pixels, minimum 80 X 280 pixels) of the rectangular box with your signature in it & crop the border. The final file size of the scanned image should be between 5KB to 100KB.
You will need to upload details of the valid photo identity document, the original of which you need to produce at the exam hall centre on the date of JAM 2018. Acceptable photo ID documents are: Aadhaar ID (Learn how to get a duplicate Aadhaar ID), College ID, Driving License, Employee ID, PAN Card, Passport, Voter ID.
Pay the application fee through any one of the electronic payment modes provided for it, namely Net-banking/debit card/credit card.
Once you have successfully registered, you will receive your enrolment ID at the e-mail address which you provided during the registration process. You will also get this ID at your mobile number. Keep this ID & its password for future reference and communications for JAM 2018. For security reasons, do not share the ID and password with anyone.
Download the Admit Card, which will be available at the official website from 9th January 2018. You will be required to bring this hard cope (print out) of the Admit Card to the exam centre along with at least one original and valid Identity Document (ID), details of which you gave when applying online. Note that it should be in original and not a photocopied or scanned copy and should not have passed the maturity date.
Admission after results
Once the JAM 2018 results are announced, you need to submit your online application for the requisite academic program at any of the institutes only via the prescribed admission form available at http://jam.iitb.ac.in. This can be done from 3rd April 2018 up to 17th April 2018. Admissions at the institutes will be made in order of merit in each category and depends on the seat availability at the institute. The categories are: General (GEN), OBC Non-Creamy Layer (OBC-NCL), SC, ST, and Persons with Disability (PwD) category candidates.

As per the preference opted for in the admission form & the corresponding rank(s) in the merit list, the first admission list for each programme under JAM 2018 will be prepared and announced on 22nd May, 2018 at the JAM 2018 website.

Once you get the admission intimation, pay the booking fee for an advance seat (Rs. 10000/- for General/OBC-NCL category candidates and Rs. 5000/- for SC/ST/PwD category candidates) online through JOAPS, before the last date as mentioned in the intimation. This amount will be transferred to the admitting institute and it will be adjusted against your fee at the institute at the time of registration.

In case of vacant seats, a second admission list will be announced at the official website on 12th June 2018 and a third and final list on 29th June 2018, with same procedure for paying fee as mentioned above to be followed.


Contact address
Organizing Chairperson JAM-2018
GATE-JAM Office,
Indian Institute of Technology Bombay,
P.O. IIT Powai, MUMBAI - 400076, Maharashtra
Contact Ph: 022-2576 7022 [Help desk timings: Monday to Friday, on Govt. working days, 10a.m. to 12 noon & 2.00 pm to 5.00 pm]
Email: jam@iitb.ac.in

All the best to candidates appearing for JAM 2018!