Online Watch FIFA U 17 World Cup Football Match Live Streaming On Your Mobile

Are you also one of the football lovers? Are you also crazy to watch football match? India is hosting FIFA U-17 World Cup 2017 for the first time in its history. Now you can enjoy the matches on the go on your mobile or tablet screen. Here are the details for this.


Does football flutter in your veins? Are you craziest fan of FIFA? This time, India has got the opportunity to host 2017 FIFA U-17 World Cup between 6 October and 28 October 2017. India is the 5th Asian country to host FIFA since it was first started in 1985. Prior to India, China, Japan, South Korea and UAE are the Asian countries to host it.

Total 24 teams will play the match, namely Brazil, USA, Chile, France, Iran, New Caledonia, Germany, Colombia, India, Ghana, Costa Rice, England, Guinea, Iraq, Niger, Honduras, Japan, New Zealand, Korea DPR, Parahuay, Mexico, Turkey, Spain and Mali. India is playing for the first time in FIFA.

Matches will be played in six cities and at six stadiums. These stadiums are Salt Lake Stadium at Kolkata, Jawaharlal Nehru Stadium at New Delhi, Jawaharlal Nehru Stadium at Kochi, Fatorda Stadium at Margao, Indira Gandhi Athletic Stadium at Guwahati and DY Patil Stadium at Navi Mumbai. Indian team will play all of its matches in Delhi at Jawaharlal Nehru Stadium. Final match will be played amongst eligible teams (winner of match 49 and 50) at the Vivekananda Yuba Bharati Krirangan stadium or Salt Lake Stadium in Kolkata. India will play against United States, Colombia and Ghana on 6 Oct. 2017,9 October 2017 and 12 October 2017 in Match 2, Match 14 and Match 25 respectively in Group A.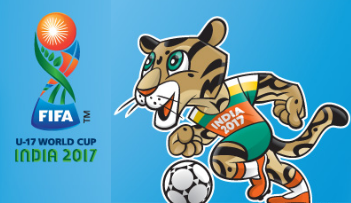 Channels telecasting live FIFA matches

SONY Pictures Networks India has broadcast rights for the FIFA U-17 World Cup. You can watch LIVE football match of FIFA Under-17 World Cup 2017 at following channels:

SONY TEN 2 (English commentary)
SONY TEN 2 HD (English commentary)
SONY ESPN (English commentary)
SONY ESPN HD (English commentary)
SONY TEN 3 (Hindi commentary)
SONY TEN 3 HD (Hindi commentary)
How to watch Live FIFA match online on mobile

As said earlier, SONY Pictures Networks India possesses broadcast rights for the FIFA U-17 World Cup, you can enjoy the match at their mobile app which is SonyLiv. The app is available on various platforms like Android, Windows, Java, Apple IOS , Tablets, Windows 7/8/10.



You can also download The FIFA App to view Live score updates, world football's latest headlines, photos and videos, and much more. This app can be downloaded on iPhone, iPad and Android.


Can I buy tickets during tournament (between 6 Oct. and 28 Oct.)

Yes. You can buy individual tickets at full price and without any discount (which was up to 60% earlier) for the relevant day of the match. Ticket price during this phase or period will be Rs. 800 for category 1, Rs. 400 for category 2, Rs. 200 for category 3 and Rs. 80 for category 4.

Interesting fact: Have you ever been willing to visit FIFA's headquarters in Switzerland? Yes. You can visit at the Home of FIFA in Zurich between 8 AM and 6 PM from Monday to Friday. But you can visit the entrance lobby and gardens only. You can also plan a visit to the FIFA World Football Museum in Zurich to nourish your knowledge with the history of FIFA and global football.