CIDCO Seawoods Estate Housing Scheme Nerul Lottery online applications schedule

Want to know details of the November 2017 CIDCO Seawoods Estate Nerul lucky draw for budget homes? This article provides information about CIDCO's Seawoods Estate housing scheme via lottery for SC, ST and CIDCO employees. Details of the application fee, base cost of the flats and application procedure schedule is provided for your ready reference.


City and Industrial Development Corporation of Maharashtra Ltd. (CIDCO) undertakes urban projects and infrastructural development in Navi Mumbai. CIDCO has constructed Seawoods Estate Housing Scheme Phase-II / Part-I & II at Sector-54, 56 and 58 (Part), Nerul. There are 18-storey buildings in the complex and now 17 apartments are available for sale via a lottery scheme.


Eligibility Criteria
You should be competent to contract under the Indian Contract Act 1872 and should be an Indian national residing in India.


You should not be a minor.


You can submit the application in a single name or in joint names (not more than two).


HUFs are eligible to apply in the individual name of the Karta.


For those submitting an application under a particular category of caste reservation, it is mandatory to submit the true copy of the requisite caste certificate duly verified by the competent authority.


In case you are submitting an application in joint names, then each of the applicants mentioned should necessarily belong to the same class of reservation category (except in case of applicants belonging to the same family).


The term "Family" refers to the applicant's spouse and their dependent children.
Details of Apartments
The apartments which are available for sale via the lottery system are located in Seawoods Phase – II. Amenities include security, reserved parking, a swimming pool, a children's park and a club house. The buildings have a lift and power backup. Facility for waste disposal is provided.

There are totally 17 apartments available for sale through the lottery, as per the following categories:

SC including Neo Buddhists: 3BHK – 1 flat; 2BHK – 3 flats.


Scheduled Tribes: 3BHK – 2 flats; 2BHK – 6 flats.


Denotified Tribes: 2BHK – 1 flat.


CIDCO Employees: 3BHK- 1 flat; 2BHK – 3 flats.
2BHK Flat details & Price
Income group: All categories.


Carpet area: 86.97sq.mt.


Base cost: Rs.27,250,625/-.
3BHK Flat details & Price
Income group: All categories.


Carpet area: 117.63sq.mt.


Base cost: Rs.36,560,849/-.


Refer to the detailed Table below: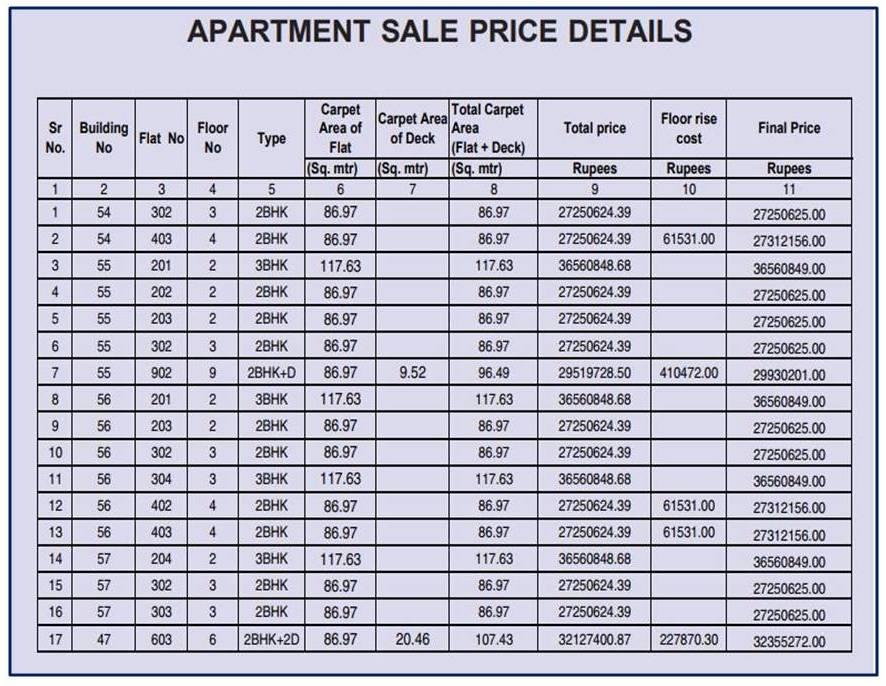 [Image source: https://lottery.cidcoindia.com]

Note: The details of carpet area, sale price and number of apartments are tentative and may change.

Important Notes:
If there are an insufficient number of applications from the persons belonging to any of the SC, ST and DT categories, then applications from other two categories will be considered for the reservation and allotment will be done accordingly.

You can avail of a loan facility from any of the financial institutions/Banks approved by CIDCO, the list of which, as well as the No Objection Certificate (NOC) for obtaining such a loan, will be issued along with the Allotment Letter.

Other than the cost of the apartment, you must also pay the requisite stamp duty and applicable taxes at the prevailing rates. You will be handed over the possession of the apartment only on submission of the receipts of the payments and taxes.




Other Charges
In addition to the sale price, you will have to pay:

A documentation charge of Rs. 500/-.


The Share Money and entrance fee of the society of Rs. 260/-.


Deposit towards 6 months maintenance charges as per prevailing rate of the society.


The stamp duty and registration charges payable to the Sub-Registrar (not payable to CIDCO) for the registration of Agreement for Sale.


GST as applicable at the time of payment as per prevailing rate.


Car parking charges.


Local body charges or Utility Service Provider charges, which will be payable as per actuals.


Electric Power connection to apartment will be obtained by paying the requisite charges directly to MSEDCL (Maharashtra State Electricity Distribution Company Limited) after execution of agreement and taking over possession of your apartment.
Important dates
Online Registration: 6th November 2017, 10a.m. to 5th December 2017, 23.59hrs.


Online Application: 8th November 2017, 14.00hrs. to 6th December 2017, 23.59hrs.


Online Payment/ NEFT / RTGS: 8th November 2017, 14.00hrs. to 7th December 2017, 23.59hrs.


NEFT / RTGS Challan Generation: 8th November 2017, 14.00hrs. to 6th December 2017, 23.59hrs.


DD Payment: 9th November 2017 during Banking hours to 8th December 2017, during Banking hours.


Draft List for applicants: 15th December 2017, 18.00hrs.


Final List of eligible applicants: 19th December 2017, 14.00hrs.


Lottery Draw: 22nd December 2017, 14.00hrs.

Note: Please confirm schedule of dates from the official CIDCO website.


How to apply
All applications must be made in online mode only.

Register first at: https://lottery.cidcoindia.com/App/NewUser.do


Then login with user name and password and proceed to the Lottery Application and finally to the payment stage.


The application Fee is Rs. 560/-. You can select various modes of payment, namely Net Banking, Credit Card / Debit Card, NEFT, RTGS and Demand Draft (DD). In case of DD, this should be drawn in favor of "CIDCO LOTTERY 2017 EMD ACCOUNT" payable at Mumbai / Navi Mumbai. Once you make the payment, the status will be sent to your registered mobile number and email ID.
Earnest Money Deposit
For 2BHK flat: Rs. 5,00,000/- .


For 3BHK flat: Rs. 7,50,000/-.

The Earnest Money Deposit (EMD) has to paid via NEFT / RTGS / Credit Card / Debit Card / Internet Banking or by Demand Draft drawn in favour of CIDCO LOTTERY 2017 EMD ACCOUNT payable at Mumbai or Navi Mumbai only.

After the lottery draw, in case you are not allotted an apartment, you will get a refund of the EMD amount (without interest) in the same bank account from which the payment was made. However, even after the refund of the EMD is made by the Corporation, the claim / right of the applicant in waiting list shall remain intact.

You will forfeit the EMD if: (a) You revoke your application after issue of final allotment letter; (b) You refuse or otherwise fails to accept the allotment.


Payment Schedule
Excluding the amount of EMD, you need to pay the balance amount of sale price of the apartment in 6 equal installments. The last installment must be paid before taking over possession of the apartment. You will receive the full details of the payment schedule in your allotment letter. You need to pay the miscellaneous charges indicated in the allotment letter along with the payment of the last installment of sale price of apartment.

You need to pay the charges for common services like water and electricity separately, as and when required to do so.

In deserving cases, the Managing Director may extend the period determined in the scheme for payment of installments not exceeding 6 Months in all, on recovery of Delayed Payment Charges (DPC) at the rate fixed by the Corporation. Any request application for such an extension should be submitted in advance. The current rates of DPC are:- Up to 90 days 12% p.a. and 91 days and above 16% p.a.

In case of default in payment of any installment, the allotment of the apartment will be cancelled and you will forfeit the amount of Earnest Money Deposit and 10% of the sale price paid. CIDCO will then be free to dispose off the apartment and you will be required to return all original Stamped Receipts, the Allotment Letter as well as the NOC issued by CIDCO.




Getting possession
Once you have made the full and final payment of sale price, along with other miscellaneous charges as may be demanded, you will be called on any suitable date for execution of Agreement for Sale and for handing over possession of apartment. Refer to the marketing booklet (available at the CIDCO website provided at the end of this article) for details on the extension of this date, as also for transfer of apartment and transfer of rights and benefits to the legal heir.

Note that the lottery draw will be held at: CIDCO Auditorium, 7th Floor, CIDCO Bhavan, CBD Belapur, Navi Mumbai - 400 614 C.


Contact information
Office of the Marketing Manager (II), CIDCO Limited,
3rd Floor, Raigad Bhavan,
CBD Belapur,
Navi Mumbai- 400 016.
Helpline Number: 022-67121158/1077/1016
E-mail: lotterysupport@cidcoindia.com / mo.mm2@cidcoindia.com
Website: https://lottery.cidcoindia.com/App/ and https://cidco.maharashtra.gov.in/