How to apply for Army Public Schools teachers recruitment exams for 2018-2019 vacancies

Are you searching for CBSE army school teaching job vacancies? Check out the schedule of the AWES online registration for APS jobs in this article. The Army Welfare Education Society (AWES) recruitment exam is being conducted in January 2018 for teaching vacancies for the 2018-2019 academic session. You can also know the details of the application fee, eligibility criteria and the application process.


The Army Welfare Education Society (AWES) has announced the schedule for the recruitment exam (Combined Selection Screening Exam - known as CSE) for appointment of teachers Army Public Schools (APS) across India. There are currently 137 schools at military stations & cantonments, all of them following the CBSE curriculum. For the forthcoming academic session 2018-2019, over a thousand teaching vacancies are likely to be available.


Eligibility criteria
The CSE will be conducted for the posts of PGT/TGT/PRT for all subjects (see table image below).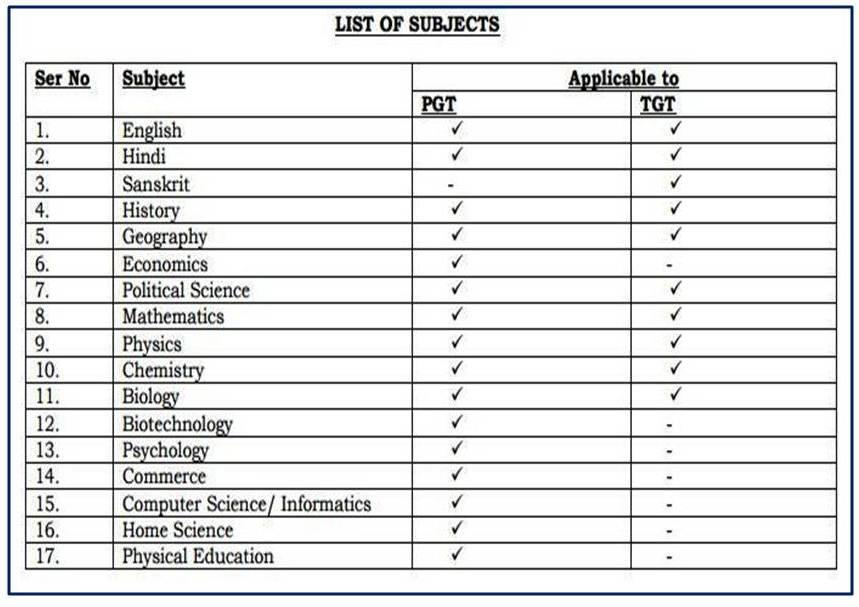 [Image source: http://www.awesindia.com/]


Education qualifications
For PGT Teachers: Post Graduate degree with minimum 50% marks. You should also have B.Ed. qualification with minimum 50% marks. Subject-wise qualification is as follows:


English: Masters Degree in English + B.Ed.


Hindi: Masters Degree in Hindi + B.Ed.


History: Masters Degree in History + B.Ed.


Geography: Masters Degree in Geography + B.Ed.


Economics: Masters Degree in Economics + B.Ed.


Political Science: Masters Degree in Politics OR M.A. in Public Administration / International relations + B.Ed.


Maths: Masters Degree in Maths OR PG in Statistics / Operational Research, provided it is preceded by a Graduate degree in Maths or an M.Sc. Ed. In Maths from RCE, NCERT + B.Ed.


Physics: Masters Degree in Physics OR M.Sc.Ed. in Physics from RCE, NCERT + B.Ed.


Chemistry: Masters Degree in Chemistry or PG in Pharma Chemistry provided it is preceded by a Graduate degree in Chemistry or M.Sc. Ed. In Chemistry from RCE, NCERT + B.Ed.


Biology: Masters Degree in Zoology (with Botany)/Botany(with Zoology) OR PG in Micro Biology/Molecular Biology/Agricultural Botany/genetics provided it is preceded by a Graduate degree in Botany/Zoology or an M.Sc. Ed. in Zoology/ Botany from RCE, NCERT + B. Ed.


Biotech: Masters Degree in Biotechnology / Relevant subjects + B.Ed.


Psychology: Masters Degree in Psychology OR Masters Degree in Education with Psychology as a subject + B.Ed.


Commerce: Masters Degree in Commerce + B.Ed.


Computer Science Informatics: BE/BTech in Computer science/IT/ Computer Engg/ Electronins/ Electronics& Communications OR MCA/MSc Computer Science/IT Or MSC Maths/Physics/ Statistics and BSc Computer Science/BCA/ 3yr Diploma in Computer Engineering or IT/PGDCA recognized by AICTE Or B Level from DOEACC.


Home Science: Masters Degree in Home Science + B.Ed.


Physical Education: Masters Degree in Physical Education.



For TGT Teachers: You should have a Graduate degree with minimum 50% marks, as also B.Ed. qualification with minimum 50% marks. Subject-wise, the qualification is as follows:


English: Degree in English or BA Ed with English from RCE, NCERT + B.Ed.


Hindi: Degree in Hindi or BA Ed with Hindi from RCE, NCERT + B.Ed.


Sanskrit: Degree in Sanskrit or BA Ed with Sanskrit from RCE, NCERT + B.Ed.
History: Degree in History or BA Ed with History from RCE, NCERT + B.Ed.


Geography: Degree in Geography or BA Ed with Geography from RCE, NCERT + B.Ed.
Political Science: Degree in Politics or BA Ed with Political Science from RCE, NCERT + B.Ed.


Maths: Degree in Maths or BA Ed with Maths from RCE, NCERT + B.Ed.


Physics: Degree in Physics or BSc Ed from RCE, NCERT + B.Ed.
Chemistry: Degree in Chemistry or BSc Ed from RCE, NCERT + B.Ed.
Biology: Degree with Botony & Zoology or BSc Home Science with B.Ed.



For PRT Teachers: You must have a Graduate degree with minimum 50% marks. You should also have B.Ed. qualification or a two-year Diploma Or B.El.Ed. (this should be a four year integrated course)
Age criteria
As on April 1st 2018, freshers should be below 40 years of age. However, in the case of Delhi schools, the age for TGT/PRT teachers should be up to 29 years and for PGT teachers it should be up to 36 years.

In the case of all experienced candidates, the age should be below 57 years.


Experience requirement
Any candidate who is a fresh graduate / post graduate with no experience can register for the recruitment screeining exam if other eligibility criteria is fulfilled. As per age qualification mentioned above, the experienced candidate should have at least 5 years teaching experience within the last 10 years.


Additional criteria
For appointment of TGT and PRT teachers on a regular basis or on contract basis, it is mandatory to have CTET/TET qualification of the State Governments. In case you are eligible in all other respects, you will be appointed on 'Adhoc' basis till you attain the requisite qualification. However CTET/TET is not necessary for appearing in the CSB Screening exam.


How teachers will be selected
An online agency will be appointed by HQ AWES to conduct the recruitment screening exam. If you are already holding the score card, you can appear again this time, too, to improve your score. If you are holding a score card of a TGT and wish to obtain a score card of PGT on acquiring the requisite additional qualification, then also you can apply for the screening exam again.

Following the screening exam, an interview will be conducted at various centres in India for a single school or a cluster of schools as per the convenience of the Board interviewing the candidates. Those applying for the post of a Language teacher must appear for a written test. This will include an essay and comprehension (15 marks each). This test will be in addition to any test conducted to evaluate your teaching skills. Additionally, there may be a test to evaluate your proficiency in computers if so required.

Important note: On getting a Score Card, you will not necessarily be entitled to get an appointment as a teacher. It only makes you eligible for the subsequent stages of the selection process, namely the interview and evaluation of teaching skills.


CSB screening exam information
The Test will be an online test in the format of multiple choice questions (MCQ). The date of the test is 15th - 17th January 2018.

Exam fee: Rs. 500/-. This fee is non-refundable.


Exam format
For PGT/ TGT Teachers: There will be 2 parts to the exam. Part A includes: General awareness, Mental Ability, English Comprehension, Educational Concepts and Methodology. Part B will cover matter specific to the subject.
Duration: 3 hours
Marks: 90 for Part A and 90 for Part B


For PRT Teachers: There is only one part for the exam, this being the same as Part A for PGT/TGT teachers mentioned above.
Duration: 1 hour and 30 minutes
Marks: 90

Important notes:

For those appearing for the two-part exam - you can answer the questions in any order, say Part B first and then Part A.


There will be negative marking, with one-fourth marks being deducted for every wrong answer.


The eventual score will be finalized to 100.


You need to score a minimum of 50% (in each part for the 2-part exam) to qualify for the teaching post.


You can appear for the online mock test which will be available from 2nd to 10th January 2018.


You can also avail of previous years' question papers at http://aps-csb.in on online payment of Rs.100 for Part A and Rs. 100 for Part B. Once you make the online payment, you can download the paper (no hard copies available).
How to register for the exam
You have to register through online mode only at: http://aps-csb.in which will be open from 1st December 2017, 9a.m. to 21st December 2017, 5p.m. Please read the detailed instructions before filling in the online registration form.


Once you fill up the details, you will get the message to pay the exam fee online. You can choose to pay the fee with a Debit card or a Credit Card or via Net banking or with a Bank Challan.


Once you make the online payment, you will see the message to upload the requisite documents. These are:


Your photograph


Your signature


Documentary proof of date of birth


Certificates of your academic qualifications.


You can fill in 3 choices for an exam centre, the list of exam centres being available on the registration website (refer Annexure 4 of the official notification).


On successful registration, you will see the confirmation message on the screen. You will also receive an intimation via email and SMS.


In case of any difficulties, check out the Helpline tab.
Exam schedule
Online registration: 01 Dec 2017 to 21 Dec 2017.


Admit cards availability online: 5th January, 2018 onwards.


Online exam date (tentative): 15-17th January 2019.


Declaration of results on website (tentative): 28th January, 2018.


Print-out of score cards (tentative): from 30th January 2018.
After results
Once the results are declared, visit AWES website to know the details of vacancies available in the various AWES schools across India. The school/management will be advertising the list of vacancies in local and/or national newspapers.

You can download the application form from the AWES website for the interview, the form being also available at the respective school websites. Fill in the application form and submit it at the school where you wish to take up the teaching job by the last date for the specific school appointment.

You can also download your scorecard after the results are declared, this being valid for your life time so long as you take up a teaching job in a CBSE recognized school within 3 years of issue of the score card.


Contact information
Army Welfare Education Society (AWES)
Building No 202, Shankar Vihar,
(Near APS) Delhi Cantt – 110010
Ph: 26151564,26152642

Helpline contact:
Email: customercare@aps-csb.in
Contact Nos.: 9119801915, 9119801916 (Monday to Saturday, 9a.m. to 8p.m.)