What to do when you make a tour plan via tour agency

The first step in planning a trip is to look for the best tour package. Tour agencies provide a list of different tour packages by different tour operators. In this article let us understand the differences between the tour agencies and the tour operators. Also what to do when you make a tour plan via tour agency.


Generally, many of us would like to spend our vacation or long weekends in visiting new places. New places are places, that are not familiar to us. So we take the guidance of tour operators to explore the tourist spots in and around our desired places. Sometimes we will not be aware of the tour operators too, in that case we visit tour agencies to know different tour operators and different packages provided by them. Let us first understand the differences between tour operators and tour agencies.


Know the difference between tour operators and tour agencies
Tour Operators: They are entirely responsible for the operations of your tour. They take care of entire package, that includes transportation, tickets, hotel room booking, entrance tickets to tourist spots, (cabs and food, if required). For example: Green chilli holidays, Namaste Tours private ltd, Magic tours of India etc. There is a national body in India for tour operators called The Indian Association of Tour Operators (IATO). You can find Government authorized tour operators list in their web page IATO members



Tour Agencies/Travel Agencies: They Provide details of these tour operators and their packages. They generally, do not own any vehicle or take care of lodging. We can only book tickets to the desirable package through these agencies. Sometimes, agencies provide offers like price concession for tickets. Generally, you will get to know the tour operator, only after you paid the ticket fare through these agencies. Because, you will be allowed to select the itinerary and book for it. Later from the voucher, you will get to know the tour operator. For example, make my trip. These tour agencies apart from tour packages, also provide independent agency services like booking travel tickets and hotel room booking etc. These services are useful for those who plan their tours independently. In simple, tour agencies will provide itinerary for your desired tour plan, whereas tour operators provide the details of their existing tour plans.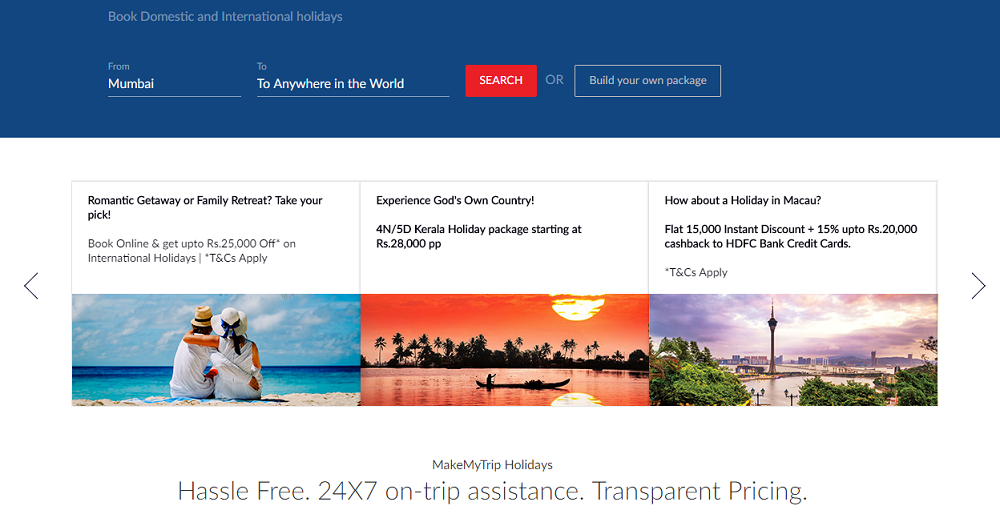 Image source: weddingz.in

From the differences, we can understand that, agencies are only the middle men. They have their own portal, through which we get package details and our details are transferred to tour operators and tickets get booked. Our interaction between agency gets ended, once the tickets are booked. During our tour period, we should interact with the actual tour operators only.

Here tour operators are also a kind of middle men between tourist and service providers like, travel companies, hotels and tourist guides. Still, they have a better relationship with service providers and they have good deals directly with the actual service providers. If it is a group tour, then our interaction will be with the tour operators only. They will accompany us and make interaction with hotel management, bus drivers, guides etc. When it comes to bus tours/ car tours, the tour operators own buses/cars, drivers and guides. In such cases, they are the direct service providers.


My bad experiences with the tour agency
For the first time, I booked 3 days tour package covering San Francisco, Santa Barbara, Yosemite with US west coast holidays(tour operator) through Take tours (tour agent). It was a family trip with 4 adults and 2 kids(2 yrs and 1yr). We availed "buy two, get one free ticket" offer. Therefore, we paid package fare for adults and no payments for kids. It was mentioned in the agent site to buy tickets for kids.


What went wrong for the first time?
However, we did not pay the package fare for kids, their seats were counted. So we are forced to pay driver and guide tip, which is calculated $8 per seat/ per day. The guide later told no tickets required for kids. We ended up spending $48 unnecessarily.

For the second time, I looked for four days tour package again through Take tours. I found a desirable package provided by Super vacation(tour operator), that covered London bridge, Grand Canyon North Rim, Zion National park, Bryce National Park, Upper Antelope, Las Vegas and a chocolate factory. Important places getting covered in one trip seemed to be so attractive. It was a family trip again, this time it was 2 adults and 2 kids( 3 yrs old and 1 yr old). There was an offer again as before. Buy 2 tickets and 1 ticket for half of its price. We availed its benefit. We did not book ticket for my 1 yr kid this time. We called and inquired the tour operator directly, regarding the same. So, no issues faced with respect to guide tips.


What went wrong again?
In the agency site, it was mentioned that the places covered include Grand canyon north rim, but we were taken to east rim. On the day of tour, the driver and guide informed us that the kids less than 5 years old were not allowed for upper antelope. They could not make it positive to us in any way. Because their tour plan were just right and the problem is only with the agency. They did not update that particular package. So we just went ahead and visited Grand canyon east rim and my husband stayed back taking care of kids, while I alone went and visited upper antelope.

After speaking with the tour agent and making them understand about their irresponsibility, I got back a little amount as a refund. Still we felt the tour was not happened as expected. After receiving the voucher, we should have called and confirmed the tour plan with tour operators, but we did not do so. Yet faced its consequences. We got to know the tour operator, only through the voucher received, after booking tickets.


Steps to do when you make a tour plan via tour agency
Generally, plan your tour one month ahead of your trip.
Find the trustworthy tour agent
Go through different packages in tour agency sites. Once you find the desirable package, check its last updated date, last review date.
Call / email to the tour agent and confirm that the tour has no change.
Remember, the agency site will have general instructions to all tour package, regarding luggage, seat, meal, etc.
Once you booked the ticket, you will get to know the tour operator name in its voucher. Don't forget to notice it.
Visit the tour operator's website and read their general instructions.
Call the tour operator and get to know the details of the package in detail.
Clarify the driver and guide tips and their mode of payments.
If there is anything undesirable to you, immediately contact the agent, plan different tour package or get your money refunded.
Conclusion
It is good to go through tour agency websites because you will get more than 200 different packages with good financial offers. Still, it is a preventive measure to contact the tour operators and cross check the tour details and payment details prior to travel. It makes your trip as expected and peaceful one. In some cases, your friends and relatives too may refer some tour operators and tour packages that they enjoyed. But you should not just believe and plan as per their instruction. It is good to deal with the tour operator directly and make the final decision. I wish you all enjoy your vacations in new places every year.