How to use DesignEvo to make professional quality custom logos for your business

Read this article to know how to create a free professional quality logo for your business using the online tool, DesignEvo instead of creating a logo in Photoshop. Know what all capabilities this tool has, does it provide free templates for you to use in your template and what all editing capabilities this tool has.


Logos are a necessary part of any business be it offline or online. Every big business has a brand logo which is used to represent them everywhere, on their products as well as in their advertisements. The question is how to make that professional looking logo that is going to become your brand image going forward? Well, you can either do it on your own or you can hire the help of a professional. If you are looking to start a business it is a no-brainer that it will require you to spend some money be it on hiring a professional for one or other task. But it would be nice if we can prevent these small expenditures by trying out these tasks on our own. DesignEvo tool is an online logo website that provides you tools to create beautiful logos. Let's look at what all capabilities it has.


Getting Started with DesignEvo

DesignEvo is a powerful online tool that helps you create logos in seconds, yes, you read it right, seconds! There is a massive database of over 4000 templates, 1000s of icons and fonts that you can use in addition to your own image if you want to create your professional looking logo. By using their free service you can get a low-resolution logo for your website which is completely fine if you just plan to use it for your website. However, if you will be using this image offline then you will require a higher resolution image which requires you to subscribe to their premium services. If you do want to use the free services, they also ask you to give them credit by way of sharing the information that you used DesignEvo to create the logo on social media or by linking back to them from your website where you will be using the logo. The free logos that you get will not have a transparent background and as mentioned before, will be in low resolution. Also, by using their premium services you can get your logo in Vector PDF and SVG file format.


Features of DesignEvo

Let's take a look at the individual features that I found which make DesignEvo a competitor in the market of online logo makers.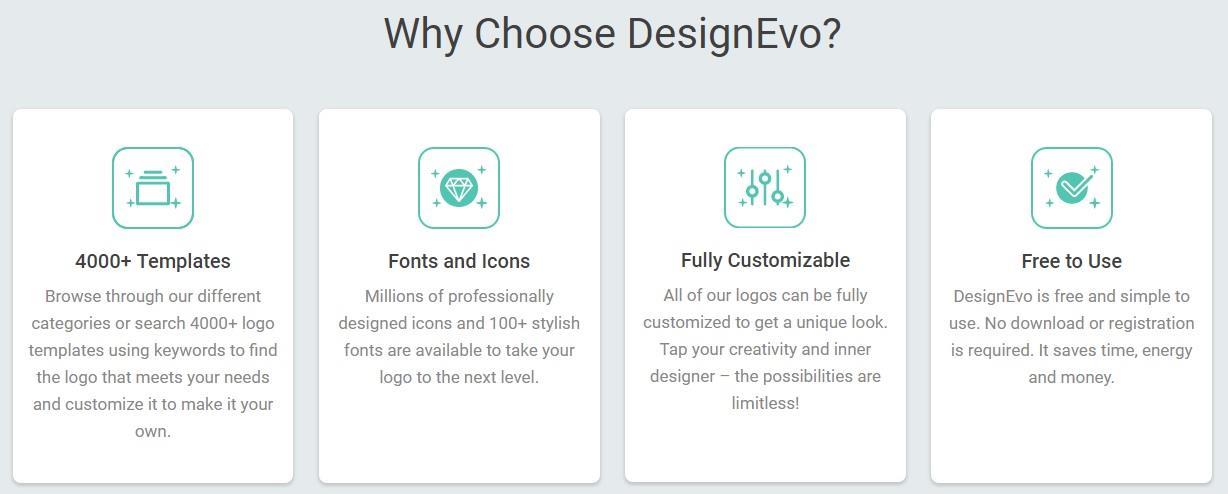 4000+ templates
Any logo maker tool should have a good library of templates that should be kept updated. With 4000+ templates DesignEvo helps you get kick started quickly. You don't have to run from the scratch looking for a copyright free image to use or create a completely fresh image! The templates have been categorised into categories like Animal & Pet, Art & Entertainment, Automotive & Logistics, Fashion & Beauty, Food & Drink, etc. All these templates a completely customisable meaning that each and every element of the template you can change including the image objects, fonts and colours.

Fonts
Most of the font types present at DesignEvo. Be it the classic fonts that we have grown up using or the new artistic fonts to add the bit of modern splash on your logo. Normal text editing tools of Bold, Italics, Underline and colour change for fonts is also present. You can also change the background colour, resize the logo objects, change the orientation of text boxes or the icons and a lot more.

Library of icons
There are thousands of icons you can use with DesignEvo. The icons are properly tagged according to category and you can directly search for your category and see the icons present for your use. Even before you choose your own keyword, DesignEvo itself suggests you some icons based on the logo template you have chosen. And if you are a registered user of this logo maker tool, your past history on the website will also be used to make suggestions for your future work.

Shapes
You can choose from different shapes like banners, badges, and decorations. These shapes are present as Vector Graphics which means that your logo shape is going to appear in high quality no matter where you are using it. And just like templates and icons, you can search for shapes using keywords and once you find the one you want to use, just drag and drop it on your logo.

Check out some of the logos we created in less than a minute each


Pros
It is not at all difficult to get a good logo for your website.
The resolution quality offered through the free account is quite sufficient for any website.
The library of graphics and tools is quite large and still is easy to go through using the keyword-based search functionality offered.
For free logos, you don't need to create an account, all features are available without it. You get your logo both in JPG and PNG formats.

Cons
If you are looking to use the logo offline by printing in on banners or any other place you need to go for a premium subscription.
If you want to start from the scratch you can upload your work on DesignEvo website but after that, you cannot upload anything else like an icon or shape to complete the logo.
Your logo is not saved in the DesignEvo account so it doesn't make much sense to create an account if you are going to use the free account.

Wrap up
DesignEvo is definitely a powerful and extremely easy to use tool to create professional looking logos in just a few seconds. You don't need to sign up to create free logos, even a person with no experience in logo designing like me could make an impressive logo in around 40 seconds and everything required to make the logo is available on their website.