What is Nipah Virus and how it cause infection to human beings?

Nipah Viral infection (NiV) is a newly emerging disease which is transmitted to humans through bats. In this article, I gave an account of history of this viral infection, the real causes of this infection, how this infection spreads, how this infection can be treated and checked, what care to be taken to check the spread of this infection etc.


Introduction
Nipah Viral infection is a newly investigated fatal infection spreading through humans by a virus called Nipah Virus (NiV). Diseases which spread from animals to humans are commonly termed as Zoonosis. This infection was first observed in Kampung Nipah of Malaysia country in the year 1998. As this disease was first observed in the location of Nipah of Malaysia, it is popularly known as Nipah viral infection. In India, Nipah viral outbreak was first observed in Siliguri of West Bengal in 2001 and Nadia district in West Bengal of the year 2007. Scientists have observed several outbreaks of of Nipah viral infection from 2001 to 2013 in Bangladesh claiming many lives. Now this infection is spread in Khozikode area of Kerala State and took away 10 lives.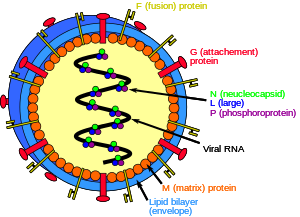 Courtesy:-Structure of a henipavirus (https://en.wikipedia.org/wiki/Nipah_Virus_Infection)


How Nipah Viral infection is caused and spread?
The natural host of this virus is Fruit eating Bats- Pterous genus of Pteropodidae family. Scientists in India during their investigation found raw Date Palm sap tapped from the trees is the cause for the contraction of this disease to humans . The reason they found for that is the fruit eating bats also share this sap before humans tap it. This infection may also be caused if the person eats fruits partly eaten by bats or consuming the sap infected by bats. Pigs and other arboreal animals which eat the fruits which were infected by bats also will contract with this infection. So humans will get contracted with this infection through consuming infected Date Palm sap or Toddy Palm sap, by eating infected fruits, by contact with pigs or other humans who got contracted with this disease. This disease cannot be spread through air. This disease is spreading wildly like a forest fire through interpersonal contact than other methods.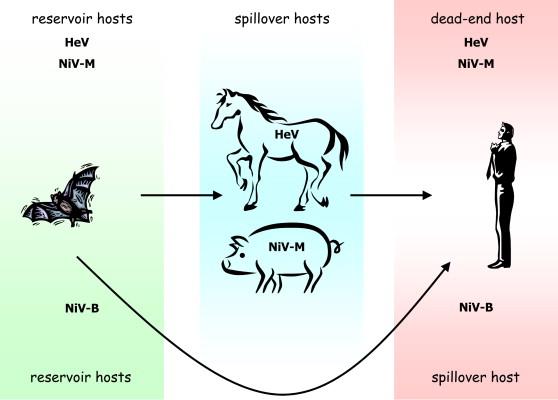 Ways of spreading Nipah Virus (http://wiki.ggc.edu/wiki/Henipavirus)


Symptoms of Nipah Viral infection
Nipah Viral infection mainly affects the respiratory system and Central Nervous System (CNS). The common symptoms Nipah viral infection are fever, headache, vomiting sensation, difficulty in urine discharge, drowsiness, difficulty in breathing, mental confusion, respiratory illness, disorientation etc. The major problem with this infection is Encephalitis (inflammation of the brain). The incubation period for this virus after infection is 5-14 days. 70% of the people who got fever through this viral infection are dying indicates the fatal nature of this viral infection. In India, blood samples of the strongly suspected will be sent to Pune National Institute of Virology. After analysis in the laboratory they confirm whether the person got viral infection or not.


Care taken to check the spread of Nipah viral (NiV) infection
Completely avoid using fruits partly eaten by bats or fruits fallen on ground eaten partly by bats or other arboreal animals infected with this infection.


Avoid using fruits fallen on ground from trees. Wash the fruits perfectly before you eat it.


Keep Pigs away from residential areas since they are the intermediary hosts to spread this infection.


Humans have to avoid consuming sap extracted from Date Palm trees or Toddy palms which were infected by bats through saliva or urinal excretion of bats. Kerala government now banned selling of sap tapped from Date Palm trees in Khozikode district of Kerala State where this outbreak of infection occurred.


An infected person must be isolated from others since this disease spread wildly from one individual to other very easily.
Treatment for Nipah Viral infection
World Health Organization (WHO) announced Nipah viral infection is one of the most fatal disease out of the ten dangerous diseases which are prevalent in the World at present. According to WHO there is no vaccine available for Nipah (NiV) infection. The treatment for this infection at present is limited only to supportive care. The infected person must be provided with intensive care till the person got rid off the infection completely. The treatment for this infection is, the doctors will give treatment to the symptoms what they see in the patient who was contracted with this infection.