Live registrations open tonight for 2018 KBC 10 Sony TV reality show

What is the KBC 2018 registration first question? Want to know how to register for and participate in auditions of 2018 KBC 10? Registrations begin tonight on 6th June! Know the first question from this article, which also provides the schedule of dates when registration lines will be open for participation in 2018 KBC. You will also get details about how to register via the KBC app and via SMS.


Kaun Banega Crorepati (KBC) telecast by SONY TV will be starting its 10th edition of the on-air reality show on 24th August 2018. There will be 53 episodes. Lots of people will be eager to participate, the first stage of which is the registration process. The registration process will be available via mobile and landline services.

An alert -
It should be noted that there is a website kbcliv.in/online-registration which claims to be the registration portal for KBC 2018. However, on checking it out, at the bottom of the site it clearly states "Kbcliv.in meant for Information and Educational Purpose only - It has no connection with SONY TV". Also, where it mentions for registering, it states (that too in very poor English) "The KBC Season 10 will be on air in the month of August and Registration will begun in the month of July. Kbcliv.in will inform you soon about these process. Please do register yourself on Online Registration Portal. Those who will register here will get Information via Mail & SMS for free.".

Note two things here - they mention registration will begin in July and the last sentence clearly states that they will merely send you information. So please take care - do not promote this site and do not register for KBC there. You may be giving out personal details for third party marketing purposes.

It would be wise to wait for Sony TV to officially provide details about the registration. Note the official website given at the end of this article.




When registration will begin
Tonight is the night! The first question for the registration process of KBC 10 will begin tonight on 6th June at 8.30p.m. on SONY TV. Four options will be provided as the possible answer. You need to select the option you think is right from those four answer options provided. Then call in your answer on the contact number which will be provided or send an SMS to the numbers given on the screen. There are no participation fees, but naturally, there will be charges as per the service provider's fees for the SMS.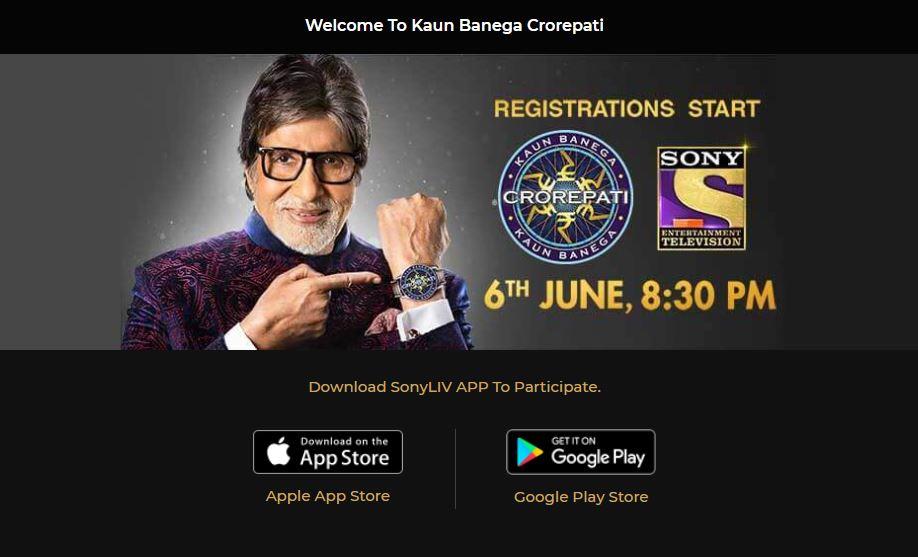 [Image courtesy: https://kbc.sonyliv.com/]


Who can participate
Like in previous years, for KBC 10, too, there are basic criteria:

Nationality: You must be a citizen of India.


Age: You should be 18 years and above on the date of registration.


You should not have any criminal charges recorded against your name.
Registration formatSwitch on your TV set and tune in to SONY TV starting tonight, every night, from 6th June up to 20th June 2018. Each night a question will be asked and the lines will be open for that question from 8.30p.m. on that night to 8.30p.m. of the next night. There will thus be 14 questions totally for the duration of the registration process. You can answer multiple times.

The information of the SMS number will be seen on our TV screen when the question is live on air.

Additionally, you can register via the Sony Liv app. This app is available at:


As mentioned, there is one question and the answer options are:
A (Option 1)
B (Option 2)
C (Option 3) and
D (Option 4)

How to send your KBC 10 answer by SMS

First, create a message and then type 'KBC'.


Leave one space, then type your option A, B, C or D, then again leave a space.


Then type your age, leave a space


Then type your gender - M for male, F for female and O for other.


Send to: 509093

Example:
Your answer option is C
Your age is 20 years 4 months
Your gender is male
Send the SMS like this: KBC C 20 M



The first question asked on 6th June 2018 was:
In India, who among the following traditionally presents the National Film Award:
A: Prime Minister
B. President
C. Vice-President
D. CBFC Chairperson

After registrationThose selected through the registration process will be called for auditions at venues in various cities across India. For the audition, you need to bring along your latest passport size photos, along with valid photo ID proof and valid address proof.

Get updates on the official website: https://kbc.sonyliv.com/

Facebook page: https://www.facebook.com/sonytelevision/

Follow KBC 10 on Twitter: https://twitter.com/SonyTV?ref_src=twsrc%5Egoogle%7Ctwcamp%5Eserp%7Ctwgr%5Eauthor