Jawahar Navodya Vidyalayas online admissions for Class XI 2018 vacant seats

Are you seeking admission to JNV Class 11? Online lateral admissions for Class XI 2018 vacant seats to Jawahar Navodya Vidyalayas in India are now open. This article provides complete information about the eligibility criteria, the selection test format and how to apply online.


Navodya Vidyalaya Samiti (NVS), which is under the aegis of the Department of School Education & Literacy, HRD Ministry, Government of India, has issued the admission notification for Class XI against vacant seats in Jawahar Navodya Vidyalayas (JNVs) for the academic session 2018-2019. Applications are open for the lateral admissions from 12th June 2018 up to 5th July 2018, 24.00 hrs.


JNV Features
Jawahar Navodya Vidyalayas (known as JNVs) are all co-educational schools which aim to provide CBSE-affiliated education to children who are primarily from rural areas in all the States of India (other than in the State of Tamil Nadu).

The residential schools provide separate hostel rooms for boys and girls. The boarding and lodging are provided with no charges and expenses of uniforms, books, etc are also covered. However, Class XI and XII students have to pay a nominal monthly fee of Rs. 600/-. SC/ST students, girls and students from families whose income is below poverty line (BPL) do not have to pay this fee. A fee of Rs.1500/- per month has to be paid by students who are wards of Govt. employees who are eligible for children education allowance.

Students participate in co-curricular activities such as Scouts & Guides, NCC, NSS, etc. They are also taught basic computer skills. A cultural exchange takes place through the unique migration scheme, wherein students of a JNV study for a year in another JNV in a different linguistic region.

Students of JNVs have done exceptionally well in various entrance exams. As per the statistical data issued by NVS, 4360 students qualified for the JEE-Main-2018 and 8407 students qualified for the NEET-2018. Four students from the underprivileged class got international admission after Class XII in 2017-18.




JNV Class XI Streams
Science, Commerce, Humanities and Vocational streams are offered for Class XI JNV students. The specific courses are:

Science with Mathematics.


Science without Mathematics.


Commerce with Mathematics.


Commerce without Mathematics.


Humanities


Vocational – refer to the table below to know the vocational courses offered:

[Image source: http://www.nvshq.org/]

Refer to the official notification for details of existing streams in Class XI State-wise and JNV-wise.


Eligibility criteria
Educational qualification
You should have passed Class X during the academic session 2017-2018 from a Govt./Govt.-recognized school in the same District/State where the JNV to which admission is sought is located.


Age criteria
You should be born between 1st June 2000 an 31st May 2004 (both days inclusive). This is applicable to all categories of candidates, including those who belong to the categories of Scheduled Castes and Scheduled Tribes.




Selection criteria
Those who fulfil the eligibility criteria as mentioned above will then be considered for admission against available vacancies in Class XI on the basis of marks secured in the Class X Board Exam during academic session 2017-18.

Accordingly, for each District, a merit list will be prepared and students will be selected against the vacancies under various categories. Subsequently, a common merit list will be prepared at the State level. If there are further vacancies in other JNVs of the same State, then these will be filled from the State level merit list by considering the option exercised by the candidates.

The list of selected students will be displayed on the Notice Board of the JNVs and also at the JNV's website. Selected candidates will also be intimated by post by the Principal of the concerned JNV. In case the selected candidate does not join the JNV, then vacant seats will be filled only from the State level merit list.

Additional weightage will be given for NCC, Scouts & Guides and Sports & Games.

Those who get admission will be required to undergo a medical check-up by the JNV-appointed Doctor. Students suffering from infectious disease/serious ailments will not be given admission.

At the time of admission to the JNV, you may be required for the purpose of verification to produce all the relevant documents in original, such as your Class X mark sheet, SC/ST certificate (if applicable), other certificates (such as NSS), etc. So ensure that you have these ready.

Refer to the table below for criteria for stream allotment: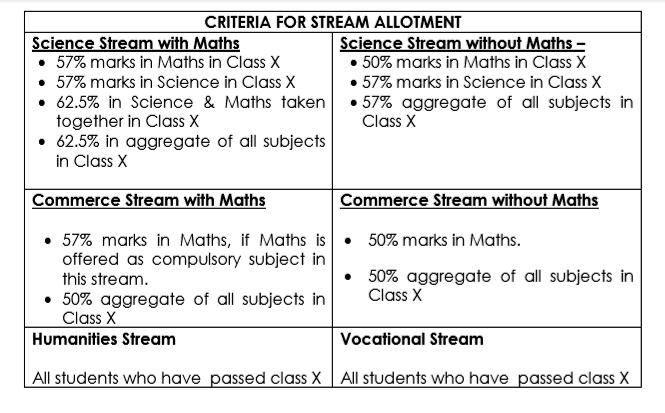 [Image source: http://www.nvshq.org/]


How to apply
First, you need to register at the NVS Class XI Admissions portal.

Ensure that you have the following ready to upload before filling in the online application:

A scanned copy of your signature.


A scanned copy of your parent's signature.


A scanned copy of your photograph.


A scanned copy of your mark sheet showing the marks scored in Class X of the academic year 2017-18.

Next, submit all personal details and select the stream as well as District preference.

Finally, submit the marks scored in class X (2017-2018).

Re-check that all details are correct before you click on the final submit button.


Important dates
Date to start online application: 12th June 2018>


Last date to submit online application: 5th July 2018 up to 24.00 hrs.
Contact information
Navodaya Vidyalaya Samiti Headquarters,
B-15, Institutional Area,
Sector 62, Noida,
Uttar Pradesh-201307
Ph: 0120 – 2405968/69/70/71/72/73 extn.2010
Website: http://www.nvshq.org/