Know about the haunted places of Kolkata (Part-I)

Although Kolkata is a relatively young city, there are some well-known haunted spots in the city, most of which are associated with its colonial past. Know about the interesting spots of Kolkata in this two-part article. Want to visit these spots?


Kolkata is not a very old city like Varanasi, Allahabad, Lucknow, Pune, Thiruvananthapuram or Delhi. Job Charnock, an official of East India Company, took the lease of three villages, viz. Sutanuti, Gobindapur and Kolkata, in 1698. Much later during the last part of the eighteenth century, these three villages developed into a new city which eventually became the second largest city of British India.

Although Kolkata is a comparatively young city, there are no dearth of haunting spots in this city. All these spots are associated with some ghastly and bizarre story. In this two-part article, we will try to know about some haunting places of Kolkata and the stories associated with these places.


#1: National Library, Alipore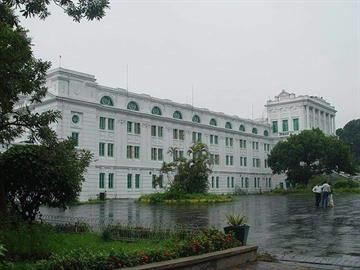 National Library (Courtesy: Google)

The biggest library of Asia is located in a sprawling mansion, which was the residence of the Governor-General when Calcutta was the capital of British India. Many eerie stories are associated with the library and building. It is believed that the spirit of Lady Metcalfe, a book-lover, visits this library at night. Some people say that they have seen this spirit. Very recently, a secret chamber without any door has been found in this building. Indeed, the mansion is considered a well-known haunted place of the city.


#2: Hastings House, Alipore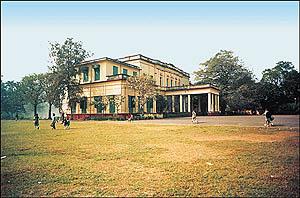 Hastings House, Kolkata (Courtesy: Google)

This is just beside the National Library. It is another famous haunted house in the city. This mansion is presently housing a Girls' school (Alipore Multipurpose Girls' High School) and a Teachers' Training College. This mansion was built by Warren Hastings, a Governor-General of Bengal province. Some people say that an English nobleman enters the estate at late night on horseback. There are many stories surrounding this building including the duel between Warren Hastings and Phillip Francis. Some years ago, a young boy died mysteriously while playing football at Hastings Ground. It is said that the spirit of this young boy also roams here at night.


#3: Writers' Building, BBD Bag This building had been the administrative centre of Bengal since late eighteenth century till very recently. Only in 2014, the West Bengal administrative headquarter was shifted from Writers' Building to Nabanna, a newly-built complex. But still, now some departments of the State Government are located in Writers' Building. There are some unopened spacious room in this building which creates more mystery. The employees are extremely reluctant to sit till late hours in this building. Many people have heard inhuman cry coming out from the closed rooms of the building. It is another known haunted spot in the city.


#4: Ghats of the River Ganga
The Ganga is the most sacred river of India. However, there are some ghats in Kolkata which have witnessed suicides. It is stated that these ghats, especially Mallik Ghat and Zenana Ghat, are haunted. Many people claim that they have seen grey figures roaming the ghats in very early mornings. Some people also claim that greyish hands are seen desperately trying to come out of the water. It must be noted that the spirits are said to be seen in the early morning.


#5: Rabindra Sarobar Metro Station
It is not an ancient place. This beautiful station was established in early 1984. It is one of the busiest stations of Kolkata Metro. But there have been many suicides in this station. Shadows and semi-transparent mysterious figures are seen at night behind the pillars of the station. People try to avoid this station at night (after 10 p.m).

I have mentioned five well-known haunted spots in Kolkata in this article. I will present another five spots in the next part of the article.