Application format for Official Gazette to change name legally in India

Do you want to change your name or add a surname or middle name? In such a case, you have to send an application to the state government for publication of notice in sarkari raajpatr. Here are complete details and sample letter format for this purpose.


A person may have to change his/ her name due to various reasons. Possible reasons due to which a person is most likely to change his/ her name are:

Change of name of a child by his/ her parents due to disliking of previous name
Change of name or surname when a female gets married
Change of name or spellings of name due to mythological/ numerological/ astrological reasons


You must be aware that you have to draft an affidavit duly attested from a notary for this purpose. Then you have to publish as advertisement about this in at least 2 newspapers, one of which must be English and another in local language of the state you are residing in. Keep the copies of published notice safely with you for future reference.



Sample advertisement format for publishing notice of change of name in newspapers can be:

I, OLD NAME, have changed my name from OLD NAME to NEW NAME. Hence, I shall be known as NEW NAME for all purposes. YOUR ADDRESS

Thereafter, you have to get your name published in official gazette which can be of state level or national level. Application form for this purpose is also provided here.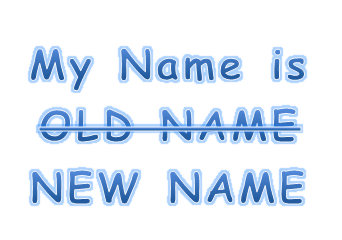 Sample letter form to state government to publish notice for change of name in Official Gazette

To,
The Under Secretary of Govt. Department of Commerce and Transport (Commerce),
____ STATE NAME

Subject: Publish of notice in Extraordinary STATE Gazette for change of name

Respected Sir,
I want to change my name from OLD NAME to NEW NAME. I have made an affidavit in front of Notary Public, PLACE NAME on DATE. This is also published in NEWSPAPER NAMES.

Now I am willing to publish notice in Extraordinary issue of STATE NAME Gazette. Hence I request you to issue necessary orders for this purpose in Extraordinary Gazette. I shall be highly obliged.

I have attached all required documents for this purpose.

Yours sincerely,
NAME
FULL ADDRESS
DATE



Here is a list of required documents about which we have talked in our application form and which are required to be attached along with the application sent to Under Secretary to publish notice for change of name in Official Gazette.


Original copies of newspapers in which you had published advertisement for change of name
Two copies of DTP of notice
Two deed changing surname forms
Two attached Xerox copies of affidavit of change of name