What to do if your child is Obese

Are you worried about your child's obesity? Are you looking for help to deal with an obese child? Do you want to get detailed information on how to tackle an obese child? Are you looking for ways and means to reduce obesity in your child, to make him become a healthy and happy child? Then read this article which provides you with complete information in dealing with the obesity of your child.


What is Obesity

Source-pixabay
Eating more than what is required for the body leads to obesity. Being overweight is one of the life-threatening conditions. In recent times, obesity is one of the most common problems in children that is driving parents to desperation. The obesity has become an increased concern to all the parents, doctors and the school authorities. Obesity in children and adolescent poses a great threat to social relationships, academic performance, and emotional instability. Obesity weakens the immune system and may reduce the life span of the child. Children are bullied for obese, tend to become depressed and lost. Obese children are prone to ridicules and taunting due to their overweight by other children. Obesity also leads to bullying among the children which may sometimes result in tragic situations.


Body Mass Index (BMI)
The body mass index (BMI) is used to measure weight in kilograms to height in meters. The range of BMI varies in children with age and sex. The body mass index is a simple method of measuring body fat by considering the ratio of weight with height. A high body mass index indicates high body fatness. It is one of the inexpensive methods to screen for body fat. The commonly used indicator to measure the size of the growth pattern of children is the percentile growth charts. For normal weight, the percentile range is between 5th to 85th percentiles. In an obese child, the percentile is equal to or greater than the 95th percentile.


Factors that cause obesity
Many factors are responsible for obesity in children and adolescents which includes excessive food intake, genetic factors, eating junk food, hormonal problems, family eating patterns, medical problems, physical inactivity, environmental and emotional disturbances. Basal metabolic rate is also considered to be a cause for obesity. Obese children have lower metabolic rates. Fast food consumption is another contributor to obesity. Working parent opts for fast foods due to lack of time for cooking. Fast foods contain lower nutritional value and high calories of weight gaining substances. Obese children tend to be lazy and show little interest in losing weight. Self-motivation lacks in these obese children. The present modern lifestyle has a major role in making children obese. The packaged food, decreased physical activity, watching television and increased use of technology contributes to weight gain in children. Stress and depression can make the child indulge in overeating.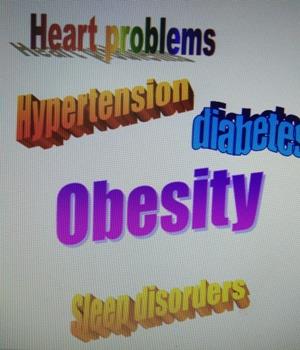 Source-jenny


Effects of obesity in children
Obesity represents a major concern for the health professionals which predicts future health hazards. Obesity in childhood has harmful effects on the body. Major diseases such as heart issues, hypertension, depression, diabetes, muscular and skeletal problems, and gynaecological disorders arise due to obesity. Obesity leads to problems such as breathing difficulties, sleep disturbances, gallstones liver diseases, the children also suffer from low self-esteem, socio-physical and emotional disturbances. If the children are overweight they may also become obese adults. Children may also experience psychological and behavioral problems. Obesity in adulthood is dangerous and life-threatening.


What parents can do to help obese children
Parents should set an example by having a healthy lifestyle. Parents should help the child in reducing weight. Avoid making fun of the child; do not call the child by names. Keep a track of BMI and seek the advice of counselors. Enable for good health and promote positive eating healthy habits.
Help the child in choosing the right food for meals. Fix healthy dietary habits to stay fit. Avoid buying junk food which includes chips, candies, baked items, fried foods and try to substitute them with healthy homemade foods. Provide liquids in the form of juice, fruits smoothies, buttermilk and fresh fruits. Include vegetables, whole grains, dry foods and fiber foods in the meals. Provide balanced food. Include low-fat milk
Avoid making fun of the child, do not call the child by names. Help the child to develop self-esteem and develop mental strength. Ensure for child's respect at school and at home. Provide an appositive approach for the child to cope with her/his condition
Have patience and talk to the child for better health state with an honest conversation. Avoid hurting the child and insulting comments to the child. Provide unconditional love and affection for the child to feel safe. Create an atmosphere of security and the feeling that the child has a loving family who cares
Accept the child as he is or she is. Share the child's concern and involve them in family gatherings. Highlight the good qualities in them to develop their personality. Encourage them to actively take part in physical exercises, yoga and tips to control weight. Allow the child to play with other children. Make the child do small tasks at home in housekeeping or any other work
Find ways to make child reduce weight without causing any side effect. Keep a food diary to know what the child is consuming so that you are aware of the eating habits of the child. Consultant the dietitian and doctors for advice on how to reduce weight
Follow the instructions strictly, help and make the child understand the importance of reducing the weight. Do not expect for overnight results, have patience and try not to give up the task. Try to reduce their television watching or playing video games or mobile. Encourage the child to walk or cycle instead of using motorbike
Do not encourage the child to eat snacks while watching TV. Do not deprive the child the treats occasionally. Allow the child to help in cooking meals. Teach them the importance of healthy food, why the need to have nutritious food for life
Encourage your child in gardening, do not allow the child to sit idle unless he/she needs rest and is sick. Make the child work in a constructive way to reduce body fat
Conclusion
The child's well-being and happiness lie with the parents' cooperation, support and constant help to children to become normal and lead a healthy life. As parents adhering to a healthy lifestyle and being an example will make the child follow them. It motivates them towards a positive approach in the weight-reducing process. Instil in children the consequences of being obese and how to deal with it to stay fit.